Historias nocturnas Julio 2016. 13ª Edición.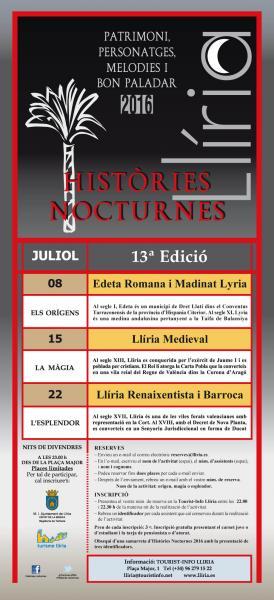 Description:
Actividades culturales
Dates:

Starts: 08/07/2016
Ends: 22/07/2016
urisme Llíria organiza una singular activitad turística cultural durante el mes de julio que va ser premio Diputació 2004: HISTÒRIES NOCTURNES, Patrimoni, Personatges, Melodies i Bon Paladar. Se trata de visitas guiadas nocturnas acompañadas de representaciones teatrales y música de época en directo Se realizan 3 espectáculos cronologicos a través de 3 rutas temátiques: ELS ORÍGENS, Ruta de l' Edeta Romana i la Lyria andalusina; LA MÀGIA, Ruta de la Llíria Medieval ; L'ESPLENDOR, Ruta de la Llíria del Renaixement i Barroc.
Para la participación del público es obligatorio hacer una inscripción previa via e-mail, teléfono o directamente en el mostrador de la Tourist-Info Llíria.
La ejecución de cada capítulo tiene una duración de 2 horas, de 23.00 a 1.00h. El equipo de trabajo de Turisme Llíria dirige el grupo siguiendo el recorrido previsto hasta los puntos estratégicos donde un narrador cuenta historias correspondientes a cada época según el capítulo en cuestión.
Día y hora: ORIGENS: noche de viernes 8 de julio, MAGIA: noche de viernes 15 de julio y ESPLENDOR noche del viernes 22 de julio.
Lugar: Tourist Info Lliria, Plaza Mayor número 1
Reservas e inscripciones: www.lliria.es
This office does not assume responsibility for sudden changes or variations of the events published on this site.