"Els Pelegrins" de Useras
"Els Pelegrins" de Useras 2015
El último viernes de Abril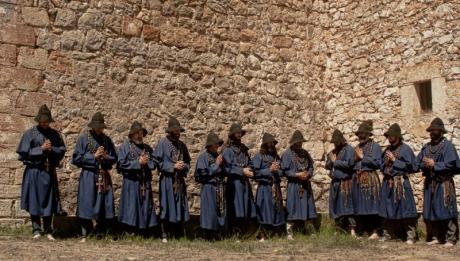 Description:
Programa de fiestas
Dates:

Starts: 24/04/2015
Ends: 25/04/2015
TRECE PEREGRINOS en representación de todo el pueblo en que con espíritu penitencial pues han de ir de pié y en algunos momentos descalzos, al Santuario de San Juan de Peñagolosa, subiendo el viernes y bajando el día siguiente.
PERSONAS QUE VAN EN LA PEREGRINACIÓN: 1 Sacerdote 13 Peregrinos 4 Cantores 3 Clavarios 4 Cocineros 1 Alcalde 1 Depositario 19 personas que llevan las caballerías
Viernes 24 de abril:
7:00h Misa de los Peregrinos.
8:00h Salida de la Peregrinación de Les Useres.
8:30h Corral Roig Filador.
9:30h A la sabina para almorzar.
10:00h Salida de la sabina.
11:00h Fuente de Mas d'Avall.
11:15h Salida de la Fuente.
12:00h Llegada a San Miguel.
15:15h Salida de San Miguel.
16:15h Fuente de Mas de Aicart.
17:00h Encina cortada - Vista de Chodos.
18:30h A la Fuente de Els Pozos - Merienda.
19:15h Salida de la Fuente.
20:00h A lo más alto del Marinet.
20:15h Salida del Marinet.
21:00h Llega a San Juan de Peñagolosa.
Sábado 25 de abril:
13:00h Salida de la Peregrinación de San Juan.
13:15h Al Pino donde se calzan.
14:30h Fuente del Archivello.
15:00h Llegada a Chodos.
16:00h Llegada a la Encina Cortada.
17:00h Fuente de Mas de Aicart.
18:00h Llegada a la Encina - Merienda
19:30h Salida de la Encina.
20:40h Llegada al Corral Blanch.
20:45h Salida del Corral Blanch.
21:30h Llegada a les Useres.
22:00h Entrada de la Procesión a Les Useres.
PARA MÁS INFORMACIÓN:

Ayuntamiento de Les Useres
Plaça de l'Ajuntament, 12 - CP: 12118 (Castelló)
Tel: 964388609
email: lesuseres_adl@gva.es
Information compiled by:
TOURIST INFO CASTELLÓN
Plaza de la Hierba s/n, s/n
12001 Castellón
Phone: 964358688
Fax: 964358689
Email: castellon@touristinfo.net
This office does not assume responsibility for sudden changes or variations of the events published on this site.