Moors in Vila Joiosa coast
Publishing date 21/07/2014
A fleet of pirates, led by Zallé Arraez, arrives at the coast. A well-equipped army, which joins the Christian camp on land, fills the city with festivities, joy and fireworks. Moors and Christians in Vila Joiosa, guaranteed fun!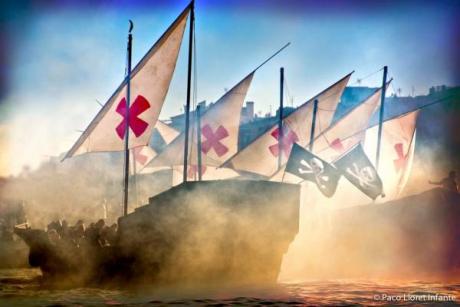 The inauguration of the lighting of the city is the starting point of the Moors and Christians in Vila Joisosa, a celebration in honour of Santa Marta that is celebrated each year from 24th to 29th July.
The Playa Centro of the city, where the Castell de Festes is settled, is the epicentre of all the events like the Moors' landing, the most special event of Vila Joiosa festivities. The Landing is a light, fire and colour show that takes place at dawn and remembers the Berber raid in the city in 1538. During the ceremony 34 boats simulate the arrival of the Moors to the coast.
Celebrations in honour of Santa Marta also include parades, smuggler and Christian embassies, the Reconquista and the essential fireworks displays.