In Ibi, they are not crazy ―they only look as if they were!
Publishing date 16/12/2015
The elections are almost there and, specially this year, it is a great opportunity for a group of citizens to take the Town Hall and protest against social unrest and the political class. Come to Ibi (Alicante), a place where they are not crazy, they only look as if they were or, at least, once a year, on the 28th of December, the day of the Holy Innocents. They are called the Enfarinats ("covered with flour"), and the city changes its rhythm under their changeable domain.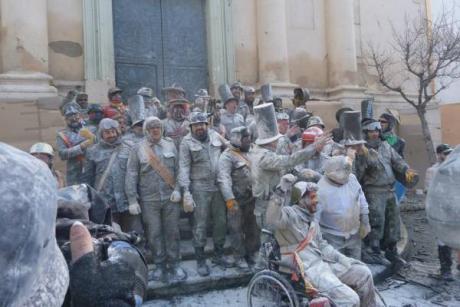 Early in the morning, the Enfarinats gather themselves by the church. From there, they start a race to the Town Hall, which stands 200 meters away. This race must be won by the Enfarinats mayor. On the finish line awaits the other main group of the days, the opposition, and it is there where the first funny clash takes place, the first of many that day. Before that, there is also an essential part of the tradition ―the shift in power from the real Town Hall to the comic one.

The group of els Enfarinats consists of 14 married men. The condition of being married is absolutely indispensable, as well as the long-year friendship of all members. The new local mayor and leader of Els Enfarinats will shout "Today, all laws in Ibi have been abolished!", and the group will start going around the city fining shops and neighbors, who will not find the way of acting according to the strange laws of the new rulers in town. The Opposition (the real rulers), will fight back to reclaim the power in the city using thousands of eggs, hundreds of kilos of flour and countless firecrackers as weapons.

Enjoy yourself with this particular event in Ibi, a city known as the "Toy Town" or the "Cradle of Ice Cream" thanks to its traditional handcraft, and find out more about their citizens. The city offers both history in every corner and incredible events and festivals during the whole year, which makes it a town full of tradition and culture.