VI Concurso de Juguetes elaborados con material reciclado
Actividades dedicadas al reciclado de materiales
El Museo del Juguete de Ibi convoca una nueva edición del Concurso de Juguetes fabricados a partir de material reciclado. Actividades dirigidas a la población infantil con el fin de elaborar juguetes reutilizando materiales de desecho. Pon a prueba tu imaginación y presenta un proyecto diferente. ¡Tu originalidad se premia!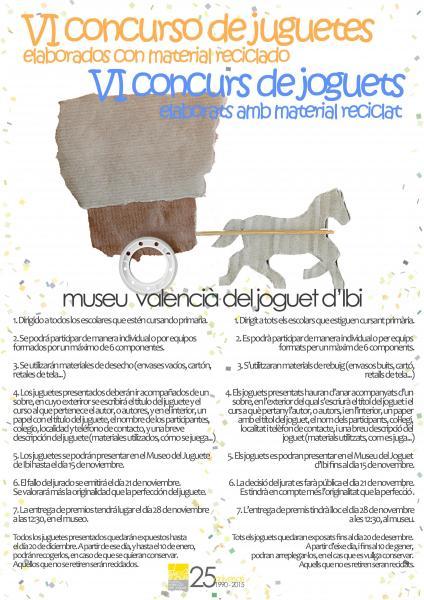 Description:
Premios y concursos
Dates:

Starts: 26/10/2015
Ends: 15/11/2015
VI Concurso de Juguetes elaborados con material reciclado
El Museo del Juguete de Ibi convoca una nueva edición del certamen para niños
El Museo del Juguete de Ibi convoca la sexta edición del Concurso de Juguetes elaborados con material reciclado, dentro de las actividades programadas con motivo del 25 aniversario del museo ibense. Un certamen especialmente dirigido a escolares que siempre cuenta con una alta participación de niños y niñas tanto de la villa juguetera como de otras localidades de la comarca.
El concurso está abierto a todos los alumnos que estén cursando primaria, pudiéndose presentar de manera individual o por equipos, formados por un máximo de seis componentes. Los juguetes presentados tienen que estar compuesto con materiales de desecho, tales como envases vacíos, cartón, retales de tela, etc.
Los juguetes presentados deben ir acompañados de un sobre, donde se escribirá en el exterior el nombre del juguete y el curso al que pertenece el autor o autores. En el interior deben ir los datos personales, teléfono de contacto y una breve descripción del producto: materiales de los que está hecho, usos y utilización, etc.
Los interesados en participar deben entregar sus obras en el Museo del Juguete hasta el próximo 15 de noviembre. El fallo del jurado será el día 21, donde los miembros valorarán más la originalidad que la perfección del juguete y la entrega de premios se celebrará el sábado 28 de noviembre, a las 12:30 h, en el mismo Museo.
Con todos los juguetes presentados al concurso se realizará una exposición que permanecerá abierta al público hasta el 20 de diciembre. A partir de ese día y hasta el 10 de enero todos los niños podrán recoger su juguete, en caso de que quieran conservarlo, ya que aquellos que no se retiren serán reciclados.
Rubén Barea, Concejal de Museos del Ayuntamiento de Ibi, señala que "en esta nueva edición esperamos aumentar la participación, que en años anteriores ha contado con más de 100 trabajos presentados. Se trata de un concurso especialmente dirigido a los pequeños para que se diviertan al mismo tiempo que fomentan su creatividad e imaginación, tan brillante en esas edades".
Para más información: Museo Valenciano del Juguete de Ibi. 96 655 02 26
This office does not assume responsibility for sudden changes or variations of the events published on this site.