San Pascual 2017
Ibi celebra San Pascual por todo lo alto
Ven a Ibi a disfrutar de un excepcional día en las montañas ibenses con actividades para toda la familia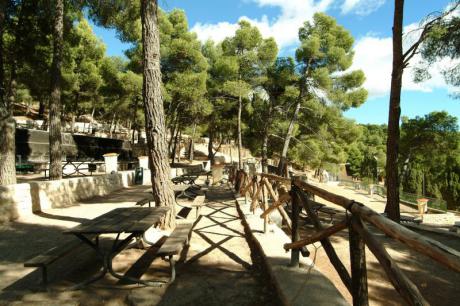 Description:
Grandes eventos
Dates:

Starts: 19/05/2017
Ends: 20/05/2017
La localidad ibense celebra los próximos 19 y 20 de mayo la Romería de San Pascual con un
completo programa de actividades y servicio de autobús gratuito hacia el paraje de San Pascual con salida
desde el Ayuntamiento de forma ininterrumpida, en horario de 9:00h a 14:00h y de 15:30h a 19:00h.
El viernes dan comienzo los actos con un pasacalle a cargo de la Unión Musical de Ibi y vino de
honor en el barrio que le da nombre a la fiesta. A las 21:00h está prevista la concentración en la puerta del
Ayuntamiento para iniciar la marcha nocturna hasta la Ermita, donde habrá servicio de bar y se realizará la
tradicional cena de romería.

El sábado, a las 8:30h, pasacalle y concentración en la puerta del Ayuntamiento para subir a la Ermita
y paseo del Santo en procesión. A las 10:00h se celebrará la Santa Misa y canto de los Gozos y a
continuación, los típicos almuerzos.

A las 10:30h dará comienzo el XVI Cross "Subida a San Pascual" con salida desde el Ayuntamiento.
Con una distancia de 4.100 metros, la competición está organizada por "Club Teixereta d'Atletisme" con el
patrocinio de las concejalías de Deportes y Fiestas, que harán entrega de los trofeos para los tres primeros
clasificados de cada categoría. La inscripción es gratuita y podrán realizarse a partir de las 9:30h, en la puerta
del Ayuntamiento. La salida será a las 11:00h, desde la puerta del consistorio y la meta estará en la explanada
de la Ermita. Además, todos los inscritos recibirán un obsequio, bocadillo y refresco.

A partir de las 12:00h el público podrá participar en carreras de sacos, viga ensabonà y disfrutar de
cucañas y pasatiempos. El ganador será obsequiado con un jamón. A partir de las 16:00h empezarán los
bailes al ritmo del sonido de la Unión Musical de Ibi. El regreso oficial de la Romería está previsto a las
19:00h.

Desde el Ayuntamiento se ruega a todos los vecinos que respeten las normas de uso y cuidado del
área recreativa y se invita a todos los ibenses a participar en los diferentes eventos que se celebran con
motivo de la festividad de San Pascual, disfrutando del espectacular entorno de este paraje natural.
This office does not assume responsibility for sudden changes or variations of the events published on this site.