Nueva edición de la ruta de tapas en Ibi
La ruta de Tapas vuelve a la localidad Ibense
Ibi vuelve a organizar la exitosa ruta de Tapas.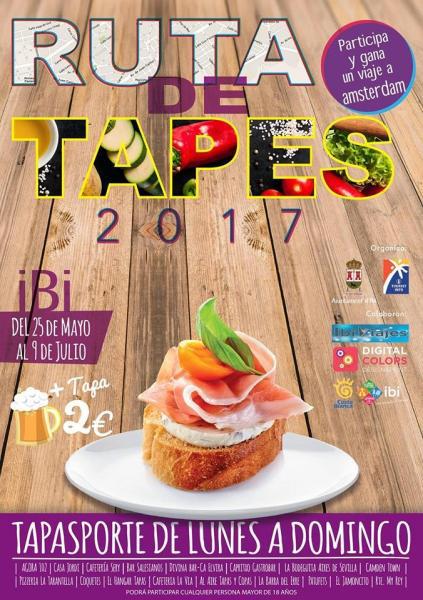 Description:
Grandes eventos
Dates:

Starts: 25/05/2017
Ends: 09/07/2017
Tras el éxito conseguido en anteriores ediciones, Ibi vuelve a organizar la ya tradicional y esperada Ruta de tapas en la localidad que da comienzo el próximo jueves, 25 de mayo hasta el 9 de julio en la villa juguetera. 20 hosteleros del municipio ofrecerán durante esos días su tapa junto con una bebida a un precio
especial de 2 euros.
Los restaurantes y bares ibenses Ágora 102, Casa Jordi, Cafetería Sery, Bar Salesianos, Divina bar- Ca Elvira, Capritxo Gastrobar, La Bodeguita Aires de Sevilla, Camden Town, Pizzeria La Tarantella, Coquetes, El Hangar Tapas, Cafetería La Vía, Al Aire Tapas y copas, Patufets, Rte. My Rey, La Barra del Erre y El Jamoncito ofrecerán exquisitas degustaciones típicas a precios populares en sus locales y horarios propios.
Pero la oferta de la Ruta de Tapas de Ibi no termina en la gastronomía. La concejalía de Turismo continúa incentivando la participación con atractivos premios, tanto para el público como para los hosteleros que consigan la tapa más votada. Todas las personas que completen el "tapasporte" con los sellos de todos los establecimientos participantes, deberán depositarlo en una urna ubicada en la Oficina de Turismo, en horario de 10:00h a 14:00h de lunes a domingo. La urna se cerrará el 10 de julio a las 14:00h.

La Ruta de Tapas de Ibi 2016 ofrecerá 19 premios. Entre todos los tapasportes de la urna se sortearán 17 cenas en los establecimientos participantes, la primera persona que consiga completar el Tapasporte ganará una cena para dos personas a elegir en cualquier establecimiento colaborador y también habrá un premio de un fin de semana a Ámsterdam para dos personas, en régimen de Alojamiento y Desayuno, con vuelos y traslados incluidos.

También se sorteará el mismo viaje para el hostelero que elabore la tapa más votada entre todos los tapasportes presentados. El sorteo para entregar los 19 premios se realizará el viernes, 14 de julio, a las 11:00h en el Ayuntamiento de Ibi, en un acto público que tendrá lugar en el Salón de Plenos.

El concejal de Turismo, Rubén Barea, ha querido agradecer una vez más la implicación de todos los hosteleros ibenses en "un evento muy esperado por todos los ciudadanos en el que, al mismo tiempo que potenciamos la dinamización turística y la gastronómica ibense, abrimos las puertas de Ibi a visitantes de la provincia, invitándoles a conocer nuestra ciudad, nuestras gentes y nuestra comida típica".
This office does not assume responsibility for sudden changes or variations of the events published on this site.