IV Memorial José Manuel Zambrana Pleguezuelos
Nueva edición del Memorial José Manuel Zambrana Pleguezuelos
La Marea Roja se prepara un año más para participar en la ya tradicional Carrera Popular 10K, con el fin de celebrar el cumpleaños del gran homenajeado José Manuel Zambrana Pleguezuelos. Una prueba donde se persiguen valores como la Superación, el Esfuerzo, la Emotividad y la Pasión. Si te apetece vivir una experiencia distinta a las rutinarias carreras populares, súmate a la Marea Roja el próximo domingo 19 de junio. ¡No te arrepentirás!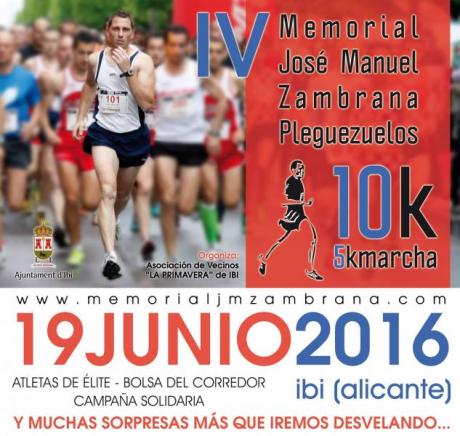 Description:
Grandes eventos
Dates:

Starts: 18/06/2016
Ends: 19/06/2016
Como todo el mundo sabe se trata de una carrera en homenaje a José Manuel Zambrana Pleguezuelos que nos dejó debido a un accidente paracaidista. Con esta carrera se mantedrá por siempre viva la figura de José Manuel y como no, la que ya se ha afianzado como una gran familia, "La Marea Roja".
10K o 5Km marcha Memorial José Manuel Zambrana Pleguezuelos es una prueba organizada en la villa juguetera de Ibi (Alicante). Una prueba que no se asemeja en nada a las rutinarias, ya que se trata de una carrera popular sin ningún ánimo de lucro, organizada por la propia familia del homenajeado, donde se trata de celebrar el cumpleaños del mismo.
Así pues, los mejores atletas a nivel internacional se concentrarán en Ibi el próximo 19 de junio. Un total de nada más y nada menos que 10 figuras representantes de este magnífico deporte se darán cita en nuestra localidad, con los que disfrutaremos de una mañana de domingo diferente, donde se asegura un gan espectáculo para todos los asistentes. Asimismo, James Moiben, doble campeón de la maratón de Beijing (China) ha confirmado su asistencia este día al IV Memorial José Manuel Zambrana Pleguezuelos, una oportunidad única para disfrutar del potencial de este extraordinario atleta keniata.
Este año todos los participantes recibirán el pack oficial de la Marea Roja (bolsa del corredor) compuesto por: camiseta, taza, gorra, chapa, personalización, numerosos descuentos y promociones por parte de los sponsors.
Además, la organización ha apostado por la celebración de la fiesta del deporte durante todo el fin de semana en Ibi. El Polideportivo Derramador albergará las 24 Horas Deportivas y la Feria del Deporte de la Marea Roja donde, además de todos los encuentros en los distintos deportes, habrá conciertos en directo, charlas y algunos stands con promociones que aprovechar. Todos los atletas invitados por la organización también estarán allí.
Más información e inscripciones en la web oficial del evento:
www.memorialjmzambrana.com
*Inscripciones válidas hasta domingo 12 de junio a las 23:59h.
This office does not assume responsibility for sudden changes or variations of the events published on this site.