Ibi celebra el 9 de Octubre
Programación especial para conmemorar el Día de la Comunidad Valenciana
El municipio ibense contará con un programa de actos destinado a mostrar parte del folklore y la cultura valenciana. El día más importante será el domingo 9 de octubre donde podremos disfrutar de una jornada repleta de actividades, entre las que figuran el acto institucional, pasacalles, Concurso de Paellas, actuaciones... Además, se han añadido otros dos eventos que se celebrarán antes y después de dicha fecha. Estáis invitados a vivir de cerca un día realmente significativo para todos de la forma más tradicional.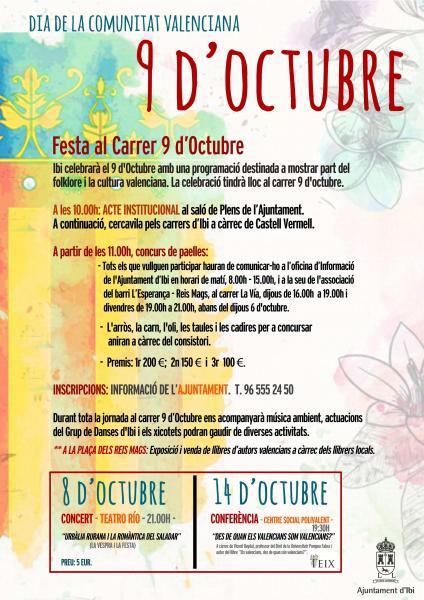 Description:
Grandes eventos
Dates:

Starts: 08/10/2016
Ends: 14/10/2016
Ibi celebra el próximo domingo 9 de octubre el Día de la Comunidad Valenciana con un programa de actos que se celebrarán en plena calle.
A las 10:00 horas, en el Salón de Plenos del Ayuntamiento, tendrá lugar el acto institucional y, a continuación, desfilará un pasacalles por las calles del municipio a cargo del Taller de Música Castell Vermell de Ibi.
A partir de las 11:00 horas, comenzará el tradicional Concurso de Paellas. Habrá tres premios de 200, 150 y 100 euros a las tres mejores paellas.
Durante toda la jornada en la calle Nueve de Octubre habrá música ambiente, actuaciones del Grup de Danses d'Ibi y los más pequeños podrán disfrutar de varias actividades. Como novedad, en la Plaza de los Reyes Magos habrá un espacio de exposición y venta de libros de autores valencianos a cargo de librerías locales.
En esta edición, desde la Regidoría de Fiestas y Tradiciones, se han añadido dos actos. Por un lado, el sábado 8 de octubre se ha programado un concierto en el Teatro Río a cargo de "Urbàlia Rurana i la Romàntica del Saladar", la Vespra i la Festa. El concierto empezará a las 21:00 horas y el precio es de 5€.
Por otra parte, el viernes 14 de octubre, se impartirá en el Centro Social Polivalente, a las 19:30 horas, la conferencia "Des de quan els valencians som valencians?", a cargo de Vicent Baydal, profesor de Derecho en la Universidad Pompeu i Fabra y autor del libro que le da nombre a la charla. El acto está organizado por la Asociación Cultural "El Teix" y la entrada es libre.
+info: Santi Cózar, Regidor de Fiestas, Ayuntamiento de Ibi. 96 555 24 50. ext. 500
This office does not assume responsibility for sudden changes or variations of the events published on this site.