Cine de Barrio en Ibi
Ibi organiza un nuevo ciclo de Cine en los Barrios para la época estival
Tras el éxito de ediciones anteriores, el Ayuntamiento de Ibi, desde la Concejalía de Cultura, impulsa una magnífica actividad de ocio dirigida a todos aquellos que deseen disfrutar al aire libre de las películas más taquilleras de los últimos meses. Este nuevo ciclo de "Cine de Verano" recorrerá los diferentes barrios de la Villa Juguetera ofreciendo proyecciones en espacios amplios y habilitados para ello. Estáis todos invitados a aprovechar las noches de verano de la forma más amena y divertida.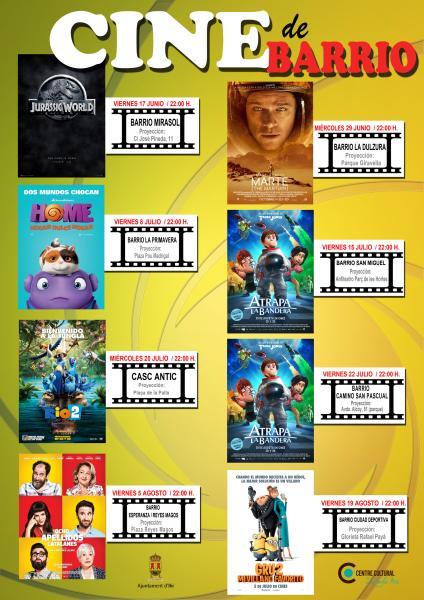 Description:
Grandes eventos
Dates:

Starts: 17/06/2016
Ends: 19/08/2016
La programación dio comienzo el pasado viernes 17 de junio con el film "Jurassic World" que se pudo ver en el Barrio Mirasol. El miércoles, 29 de junio, se proyectará en el Parque Giravella la película de ciencia ficción "Marte", protagonizada por Matt Damon.
La programación del mes de julio comienza el viernes 8 con la película de animación infantil "Home. Hogar dulce hogar" que se podrá ver en la Plaza Pou Madrigal del Barrio Sagrada Familia- La Primavera. El viernes, 15 de julio, se podrá ver otra película de animación para los más pequeños con "Atrapa la bandera", de los creadores de Tadeo Jones, que se proyectará en el Parque Les Hortes, en el Barrio San Miguel.
El miércoles día 20 es el turno del Casc Antic con la película "Rio 2, bienvenido a la jungla", que se podrá ver en la Plaza de la Palla. El viernes 22 los vecinos del Barrio Camino de San Pascual podrán ver la película "Atrapa la bandera", que repite proyección en el parque de la Avda. de Alcoy.
El mes de agosto se estrena con la taquillera comedia "8 Apellidos Catalanes" en la Plaza de los Reyes Magos y por último, el viernes 19 de agosto finalizará el ciclo de cine a la fresca con la película "GRU2, Mi Villano Favorito", en la Glorieta Rafael Payá del barrio de la Ciudad Deportiva.
Todas las películas son gratuitas y darán comienzo a las 22:00 h. Como viene siendo habitual, para la realización de este nuevo ciclo de cine de barrio el Ayuntamiento ibense ha contado con la colaboración de las asociaciones de vecinos, que se muestran encantados con la iniciativa, ya que fomenta las relaciones con los vecinos e invita al disfrute de una noche de verano compartiendo con amigos y familiares una buena película de cine al aire libre.
*Adjuntamos cartel.
+Info: Centro Cultural Salvador Miró. 96 555 46 50.
This office does not assume responsibility for sudden changes or variations of the events published on this site.