Visita guiada "La Senda de la Historia"
Visita guiada por el patrimonio histórico de Guardamar
Viaje a las civilizaciones antiguas, fenicios, íberos, romanos, al mundo islámico. Descubrirá una ciudad portuaria fenicia y una rábita califal, la historia medieval de Guardamar y todo el proceso de la repoblación dunar, a través de los enigmáticos senderos de la Historia. El viajero se inicia en el conocimiento.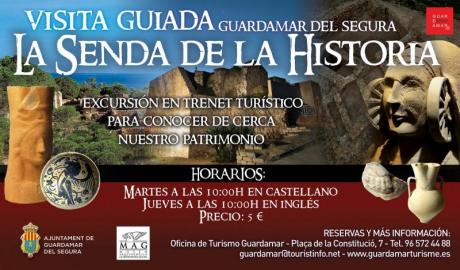 Description:
Actividades culturales
Dates:

Starts: 23/08/2016
Ends: 23/06/2017
Visitas guiadas en castellano: Martes a las 10 a.m
Viisitas guiadas en inglés: Jueves a las 10 a.m
Grupos: mínimo 30 personas
(español, inglés, valenciano y francés)
Precios:
Adultos: 5,00 €
Grupos: visitas concertadas, llamando a la Oficina de Turismo.
Itinerario
1ª Parada: Centro de Recepción de Visitantes (Oficina de Turismo)
Bienvenida e inicio de la visita – Casa-Museo Ingeniero Mira - Proyección del vídeo "Guardamar, me gusta"
2ª Parada: El Castell.
Visitaremos los restos de la Ciudadela de Guardamar: Muralla y Baluarte de la Pólvora.
Conoceremos los primeros pasos de Guardamar y su historia y contemplaremos las magníficas vistas panorámicas del pueblo, la bahía, el río y la huerta.
3ª Parada: La rábita califal-La Fonteta
Visitaremos los yacimientos de la Rábita Califal, un monasterio islámico del siglo X d.C y el yacimiento de la ciudad portuaria de La Fonteta, de origen fenicio del siglo VIII a.C.
4ª Parada: Contraduna o primer cordón dunar.
Proceso de repoblación dunar.
5ª Parada: Centro de Recepción de Visitantes (Oficina de Turismo).
Finaliza la visita y despedida.
Reservas e infomación
Oficina de Turismo de Guardamar
Plaza de la Constitución, 7
Teléfono: 96572448
Sitio web: www.guardamarturismo.com
This office does not assume responsibility for sudden changes or variations of the events published on this site.