Fiestas del Campo de Guardamar 2017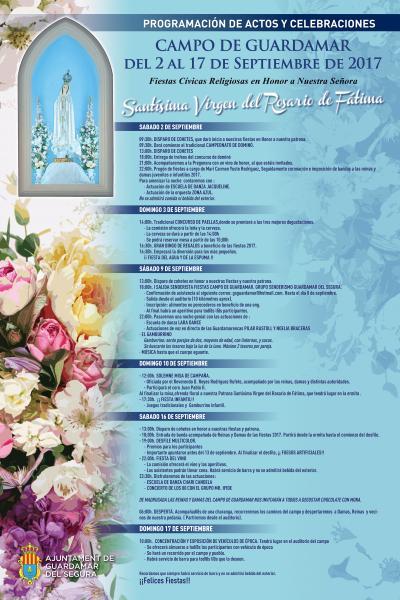 Description:
Programa de fiestas
Dates:

Starts: 02/09/2017
Ends: 17/09/2017
FESTIVITIES IN "EL CAMPO DE GUARDAMAR"
FIESTAS IN HONOUR OF OUR LADY OF FÁTIMA-SEPTEMBER 2017
SATURDAY SEPTEMBER 2
9.30 a.m. Rocket throwing
9.30 a.m. Traditional "Domino Contest"
1.00 p.m. Rocket throwing
6.00 p.m. Domino contest prizes ceremony.
9.00 p.m. We acompany the "opening speaker" with a Wine of Honour to wich are all invited.
10.00 p.m.Starting speech given by Ms. Mari Carmen Yuste Rodríguez followed by the crowning of the teenage and infant Queens of the Fiesta.
Then dance and music by:
-JACQUELINE SÁNCHEZ Dance School.
-Orchestra ZONA AZUL
You are not allowed to bring your own drinks or food
SUNDAY SEPTEMBER 3
2.00 p.m. Traditional "Paella Contest"
-Prizes will be given to the best three paellas. The Comision will give the firewood and the beer. The beer will be given from 2 p.m. onwards. You can reserve tables from 10 a.m.
4.00 p.m. Big Bingo with prizes with benefits for the Fiestas 2017
4.30 p.m. Fun for children. Don't forget your swimsuit!!!
SATURDAY SEPTEMBER 9
1.00 p.m. Rocket throwing.
6.00 p.m. Hiking running by GUARDAMAR HIKING ASSOCIATION. You must confirm your attend in this mail address: gsguardamar@hotmail.com(Last day: September 8). Exit from the auditorium (10 kilometres). Inscription: non-perishable food in benefit of a NGO. Snacks at the finish for all participants.
10 p.m.NIGHT SHOWS with: LARA DANCE Dance School. The show of the singers PILAR RASTOLL and NOELIA BRACERAS. EL GAMBURRINO (Treasure Hunt): two by two, more than 18 years old, with flashlights and sacks. You will look for the treasure under the moon light. At most two treasures by couple. Then, music and party to the end of the night.
SUNDAY SEPTEMBER 10
10 p.m.Outdoor Massoffered by the Priest Mr. Reyes Rodríguez Rufete accompanied by the Queens, Ladies of Honour and Authorities. The "Choir of Juan PabloII" participate. When the Mass will be finish there will be a floral tribute to Our Lady of the Rosary of Fatima in the Church.
5.30 p.m. Party for children!!! Traditional games and Gamburrino (treasure hunt) for chindren!!
SATURDAY SEPTEMBER 16
1.00 p.m.Rocket throwing.
6.00 p.m. Parade of the Queens of FIESTAS 2017. It will start from the church to the beginning of the parade.
7.00 p.m. FANCY DRESS PARADE. Awards for the participants. Important: you must do your inscription before September 13. When it ends…FIREWOKS!!!
10 p.m. WINE PARTY!! The commission will offer wine and snacks. The participants can bring their own food. Drink service: you can't bring your own drink.
11 p.m.SHOWS:
-CHARI CANDELA DANCE SCHOOL and MR. HYDE MUSIC BAND.
IN THE EARLY MORNING THE QUEENS OF EL CAMPO DE GUARDAMAR WILL INVITE US TO EAT CHOCOLATE AND "MONA" (SPONGE CAKE)
6.00 a.m. "WAKE UP PARADE". We will do a tour around the Campo with a music band in order to wake up the Queens of the Fiestas and all the neighbourhood. (It will start from the Auditorium).
SUNDAY SEPTEMBER 17
10.00 a.m. OLD CARS EXHIBITION. At the Auditorium. Brunch for all the participants. Tour around the Campos and the village. Drinks for everybody!!
This office does not assume responsibility for sudden changes or variations of the events published on this site.