12a Setmana Gastronòmica de la Nyora i el Llagostí de Guardamar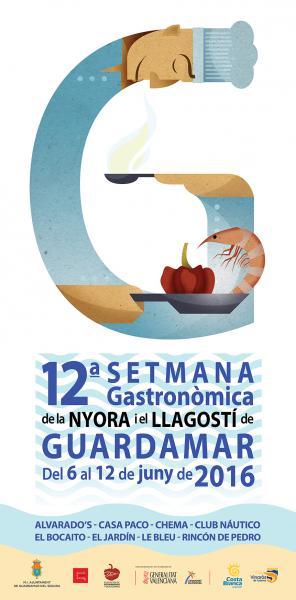 Description:
Actividades de ocio
Type: Gastronomía
Dates:

Starts: 06/06/2016
Ends: 12/06/2016
Del 6 al 12 de junio, Guardamar celebra la duodécima edición de su semana gastronómica dedicada a la ñora y el langostino, nuestros dos productos autóctonos –de huerta y mar– más conocidos.

La Setmana Gastronòmica de la Nyora i el Llagostí de Guardamar arranca con la Cena Inaugural el domingo 5 de junio en el restaurante El Jardín. Este año cuenta con la colaboración del chef Nazario Cano, que preparará dos platos del menú que se servirá esa noche.

El miércoles 8 de junio, en el restaurante Chema, tendrá lugar la tradicional Cata de Vinos a cargo de Bodegas y Viñedos Xenysel. El enólogo y propietario de la bodega, José María Martínez Verdú, presentará 4 de sus vinos D.O. Jumilla. Los vinos serán presentados en castellano, inglés y francés.

Además, el lunes 23 de mayo tendrá lugar –en el restaurante El Jardín– el II Concurso Nacional de Cocina de la Ñora y el Langostino. Tras 7 ediciones a nivel provincial, la primera convocatoria nacional en 2015 contó con la participación de concursantes –de alto nivel– de 8 comunidades autónomas. El concurso está dirigido a profesionales en activo del mundo de la cocina. El plazo de inscripción comienza el 1 de febrero y estará abierto hasta el 6 de mayo de 2016. El Comité Organizador seleccionará 10 concursantes entre las candidaturas recibidas, que serán los que participen en la final del 23 de mayo.

Del 6 al 12 de junio
Los 8 restaurantes de la Asociación de Restauradores de Guardamar ofrecerán un menú especial en sus establecimientos en horario de almuerzo y cena. La tradición de las jornadas manda que tanto la ñora como el langostino estén presentes en algunos de los platos.

Para reservas, rogamos se pongan en contacto, preferentemente, con los restaurantes o en su defecto, con la Oficina de Turismo.

Alvarado's, Casa Paco, Chema, Club Náutico, El Bocaito, El Jardín, Le Bleu y Rincón de Pedro.
This office does not assume responsibility for sudden changes or variations of the events published on this site.