Fanzara has become the MIAU, the Unfinished Museum of Urban Art
Publishing date 30/09/2015
In a small valley, on the edge of a meander that forms the Mijares River, full of deep ravines and facing east, you can find the municipality of Fanzara. This is a village full of light and featuring the best weather conditions all year round.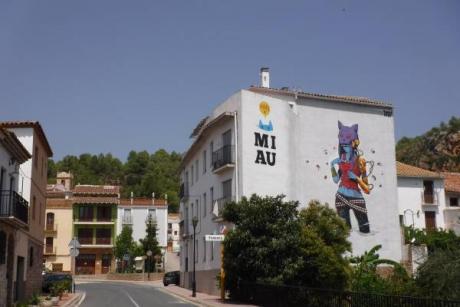 There was a time when children in Fanzara, a village of 320 inhabitants located inland in Castellón, played to express their opinions. These were the years when the neighbourhood protested against the proposal of locating a hazardous waste landfill in the area. That was almost a decade ago. The landfill was not approved, but those protests were the roots of a empowered neighbourhood that has been the basis to turn Fanzara into a museum town. "Our rebellion then helped us, so that when we proposed this crazy idea, they accepted it almost blindly" explains Javier López and Rafa Gascó, who led marches at the time and developed the idea that has changed the town.

Their crazy idea was to ask an aging village to cede their walls so that some unknown graffiti artists would paint them, not knowing what they would do. "We thought that, hopefully, some urban artist would paint a mural, but we had never dreamed to live within a museum," says Javier. Last year, 23 skilled street artists such as Deih, Hombrelópez, Susie Hammer and Julieta Xlf lived together with neighbours for four days, sleeping where they could and eating what they cooked them. When they left, they had finished 44 works. It is virtually impossible to walk more than a minute without seeing a mural. In addition, during the second October Sunday, Fanzara celebrates its festivities, several days full of: religious celebrations, parades, bullfighting, dances, cultural and sporting events... you shouldn't miss it!