Elche vive su Fiesta Mayor: El Misteri
Publishing date 12/08/2013
The Misteri d'Elx, also known as La Festa, is one of three assets in Elche to make the World Heritage list. The Misteri is a sung drama telling the story of the Dormition, Assumption and Coronation of the Virgin Mary. This week, from 11 to 15 August, we invite you to come and experience this festival for yourself... you'll be captivated!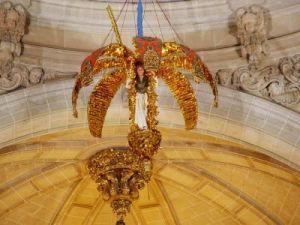 La Festa, as this Medieval play is also known, is performed in August every year in the Basilica of Santa María in Elche, coinciding with the festivity of the Virgin of the Assumption.
It is one of the most precious gems of Valencia's heritage, and was declared a National Monument in 1931. In 2001 it was included in the first UNESCO Declaration of the Masterpieces of the Oral and Intangible Heritage of Humanity.
Programme
Sunday 11 August at 10:30pm
General rehearsal (ticketholders only)
Monday 12 August at 10:30pm
General rehearsal (ticketholders only)
Tuesday 13 August at 5:30pm
General rehearsal (ticketholders only)
Wednesday 14 August at 6:00pm
Performance of the first part, "La Vespra" (free entry)
Thursday 15 August at 6:00pm
Performance of the second part, "La Festa", with the coronation of the Mother of God (free entry)
More information:
CASA DE LA FESTA
Calle Major de la Vila nº 23
03202 ELCHE
Information hotline: 965 456 112