Elche goes back to the past during the Medieval Festival
Publishing date 19/10/2016
Elche will also celebrate Destápate, the city's iconic tapas contest, during this time.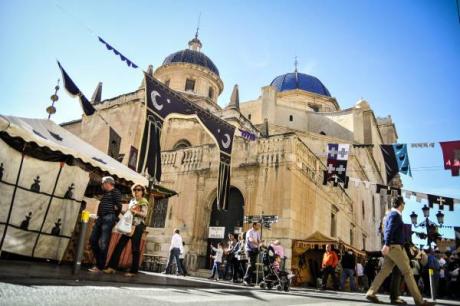 The Medieval Festival in Elche will turn the city into a sprawling scene jam-packed with history through its market and outdoor performances. Parades and fireworks take the streets with various cultural manifestations such as concerts, theatre performances, recitals, workshops, music seminars, medieval theatre and extraordinary representations of El Misteri d'Elx (the Mystery Play of Elche).

The MedievalFestival will kick off on October 20 with several commemorations, as this is a year of anniversaries. Homages to Shakespeare and Cervantes on the 400th anniversary of their deaths, as well as to Hieronymus Bosch and Ramon Llull, who left this world 500 and 700 years ago, respectively. We will also celebrate the 5th centenary of the arrival of the Order of Saint Clare to our city.

Moreover, Elche will celebrate the twelfth edition of Destápate, the tapas contest par excellence of this city. This year it will be held from October 24 to November 21 in order to continue promoting and divulging the culinary offer of establishments in Elche, as well as to allow you to enjoy new, original and delicious dishes.