Discover Palm Sunday and the procession of palms in Elx
Publishing date 29/03/2017
The Palm Sunday procession in Elx was declared an International Tourist Asset in 1997.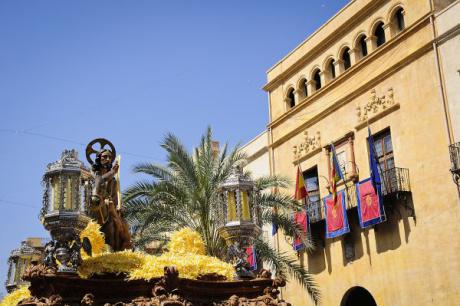 Easter has come, and so have its many representations. Palm Sunday marks the beginning of these festivities, which acquire a heightened significance in Elx owing to its beauty as well as the high levels of attendance to the main event. During this day a palm procession is held during which thousands of locals parade down the main streets of the town, accompanying the throne of the Triumphant Jesus, carrying the white palms produced by local craftsmen and grown in the Elx palm grove.

This celebration, which is held on the Sunday prior to Resurrection Sunday, was declared an International Tourist Asset in 1997, and it stands out due to its dazzling pageantry and massive throngs. The Blessing of the Palms is accompanied by the custom of hanging the blessed palms from balconies, a tradition that was imported from the East during the Middle Ages, and which still endures in Elx as a protective symbol for homes. During the days prior to Palm Sunday, the beautiful White Palm Market is set up in marketplaces throughout the city.

Elx is one of the most important cities in the Region of Valencia, and one of the few places with more than one acknowledged World Heritage Sites: the Palmeral (palm grove) and its traditional Mystery Plays. Such tradition and beauty, however, is far from being isolated. The city lives up to its treasures and its over 2.000 years of history, and its wealth of monumental heritage is joined by the dynamism of a modern city that is ready to seduce you with its natural and cultural gems. A place in which to experience art and history.