Feria de la Inmaculada de Elda 2013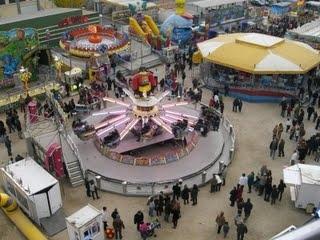 Description:
City: Elda
Ferias y Congresos
Dates:

Starts: 15/11/2013
Ends: 15/12/2013
Address:
C/Juan Carlos I, 41 (Mercado Central) - 03600 Elda
City: Elda
Phone numbers:
Fax: 965397784
Email: comercio@elda.es
Un año más la popular Feria de la Purísima, la Feria de los Caballitos, se ubicará en los terrenos en el Polígono Almafrá, en solar sito entre las calles Polígono, Médico José Ferreira Quintana y Avenida de Filipinas; un espacio diáfano, próximo y cercano para le público.
La actuación, organizada por el Área de Comercio y Mercados del Ayuntamiento de Elda, contará en esta ocasión con 65 puestos de artesanía, que ofrecerán a los visitantes una atractiva oferta en artesanía, alimentación, casetas con juguetes, regalos… y detalles de todo tipo.
De esta manera, la oferta comercial, tomará forma de un Mercado tradicional en la ciudad, que coincidiendo con la festividad de la inmaculada Concepción, se desarrollará en Elda desde el viernes 6 de diciembre, jornada festiva por la celebración del Día de la Constitución, al domingo 8 de diciembre, en un entono que se desea invite al paseo, la relación y a la entrañable tradición de "feriar" a los más pequeños.
Una cita obligada para todos los eldenses, que también disfrutan visitantes de localidades vecinas y de toda la provincia, y que como es ya tradición se verá enriquecida con la también y ya popular Feria de Atracciones, que desde el 15 de noviembre y hasta el 15 de diciembre, como antesala del período Navideño, pretende hacer las delicias de mayores y pequeños, en esta edición, con 42 actividades entre atracciones, casetas y tómbolas.
This office does not assume responsibility for sudden changes or variations of the events published on this site.