Guadalest, step by step guide
Publishing date 14/07/2016
El Castell de Guadalest, one of the most beautiful places on the Costa Blanca, can be visited now freely and with all the information thanks to the access to a speech audio guide which will help you to discover the treasures of this small, ancient town. Strolling around the urban maze of the suburb, up to the castle of San José, explore the Alcozaiba or visit the noble House of Orduña is now much easier, you just have to listen to beautiful and poetic historical texts through these modern mobile devices.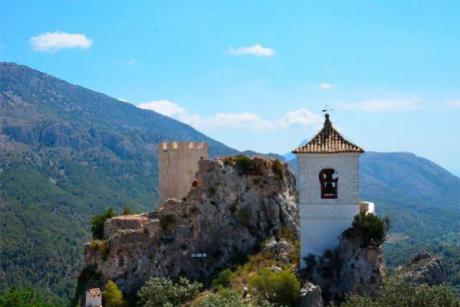 The audio guide, Chayka Spanis with texts in seven languages, divides the visit into two parts: the suburb and the fortress. In the first part, the extramural, the audio guide allows loitering aimlessly while the device tells the story of every corner. Shops, museums, streets ... nothing escapes their control. And that is undoubtedly the best way to see this town where every corner is surpassed by the next one, get lost on in its streets and admire stepping their homes, their gates or alleys, while a velvety voice-over you tells you everything. Chayka Sapanis locutions incorporate stories and anecdotes and with the integrated GPS system which is activated at each set point.

Start the climb from the suburb of Guadalest, bordering the village with a panoramic to the right reaching the sea: "You are about to start an incessantly journey through the city ...".

So the journey begins. And the best part is that you get to choose the next stops. If your decision is to go down, you go down. And if it's up, you can go up until you cross a hollow rock with a door always open, allowing you to get into a spectacular architectural stone excavated in stone which has a bell tower free of superb shape.

Leaving behind the door, the voice-over explains that just across of it you arrive to the Orduña House, now a museum, built by the Orduña family after the earthquake of 1644. At this point the technology of the audio guides changes because at various strategic points in the museum is has been installed other internals devices to walk you through the house. Its facilities include the arch hall, the anteroom, the room of the Virgin Our Lady of the Assumption where a table attributed to the Master of Alcira is exposed. You can also visit the dining room and kitchen with an excellent collection of ceramics and the Library, with 1265 volumes.

The guided tour ends at the castle of San Jose, has been converted into cemetery and built on the highest part of town. But there's more, because if you want to walk on your steps, you can keep listening, thanks to Chayka Spanis, incredible stories of one of the most beautiful and visited places in Spain.