Tradicional Fireta de Sant Jaume
La Fireta de Sant Jaume és una festa popular organitzada desinteressadament per gent del Campello amb l'objectiu de recuperar l'antiga festa de Sant Jaume.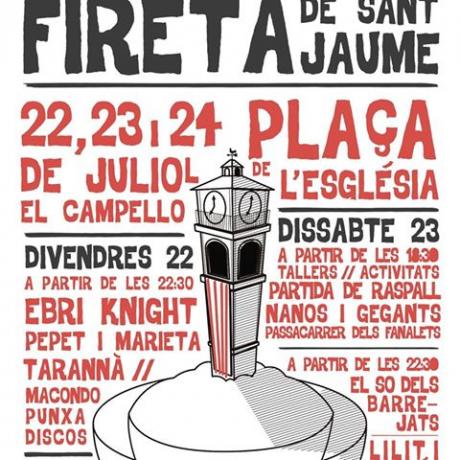 Description:
Programa de fiestas
Dates:

Starts: 25/06/2016
Ends: 31/07/2016
PROGRAMA DE ACTOS FIRETA DE SANT JAUME (Del 22 al 24 de Julio de 2016)
Viernes, 22 de Julio
17.00 horas: Arreglo de la Plaza, pregón e inicio de la Fireta.
22.00 horas: Cena de "sobaquillo".
22.30 horas: VIII Edición "festjove" con los grupos: EBRI KNIGHT PEPET I MARIETA TARANNÀ MACONDO PUNXA DISCOS
Sábado, 23 de Julio
18.30 horas: Partidas de pelota ("Raspall"). Niños y niñas de la escuela de pelota y aficionados.
19.00 horas: Pasacalles con la Colla de Dolçainers i Tabaleters Larraix.
19.00 horas: Talleres para niños, Nanos, Gegants y Castellers.
21.30 horas: Paseo con fanales alrededor de la Plaza.
22.00 horas: Cena de "sobaquillo".
22.00 horas: Concierto y baile en la Plaza con los grupos: EL SO DELS BARREJATS LILIT I DIONIS THE KINDS
Domingo, 24 de Julio
10.00 horas: Paseo en carro hasta la Playa.
13.00 horas: "Banyada" en la Plaça de Maria Lleó.
14.30 horas: Comida de carreteros y fin de fiesta.
Así mismo, a parte del programa oficial, se realizarán otras actividades pendientes de confirmar de las que se irán informando adecuadamente. También están por cerrar y confirmar los grupos y/o orquestas que actuarán el viernes y sábado.
NOTA: Durante los tres días se prevé organizar un servicio de barra para abastecer la bebida y comida de los asistentes.
Organizan: Associació Fireta Sant Jaume – Comissió Cívica 9 d'Octubre Colabora y participa: Ayuntamiento de El Campello, Associació Sant Josep, Comparsa Jaume I, Comparsa Kordofan, Colla de Dolçainers i Tabaleters Larraix y Club de Pilota El Campello.
This office does not assume responsibility for sudden changes or variations of the events published on this site.