Moors and Christians Fiestas, El Campello 2014
Moors and Christians Fiestas in El Campello. From the 11th to the 15th of October
From the 11th to the 15th of October the main fiestas, the Moors and Christians, take place. The Moorish disembarkation on Carrer la Mar beach and the battle in front of the Torre de la Illeta, on the morning of the 12th, start the most spectacular fiestas. There are many other events which mark these days, among which, and worthy of mention are the speeches and battles in front of the castle and in particular the colourful parades which fill the streets of the town with music and lights. On the 15th the religious acts in honour of Santa Teresa and the "Virgen de los Desamparados" take place, finishing with a magnificent firework display.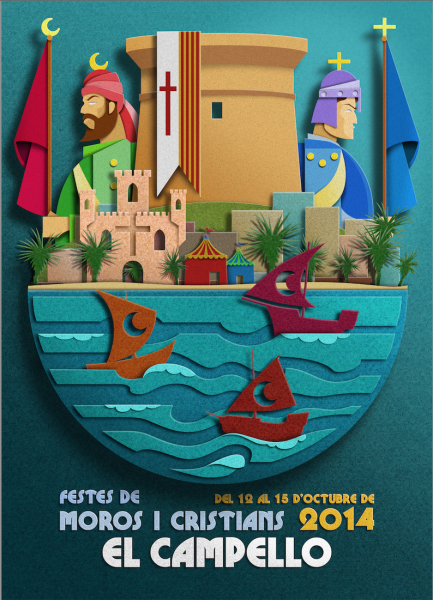 Description:
Programa de fiestas
Dates:

Starts: 08/10/2014
Ends: 15/10/2014
Moors and Christians Fiestas, El Campello 2014
Provisional program of events. Schedulesare subject to change
Monday 8th October
17:00h Opening Medieval Market
20:40h Salve to the Patron
24:00h "Correfocs" with "Colles de Dimonis" and "Tabaleters Larraix". Final firecrackers. Then, music concert in Constitución Square.
Tuesday, 09th of October "Comunidad Valenciana Day"
09.00h.Bells turning and "despertà" -wake-up-.
10.45h. Child Christian-Moorish Entry from Dr. Fleming street to the Castle
12.15h. Popular Dances and traditional "Mocadorá de Sant Dionís" at C/Pal

Saturday, 11th of October
18.00h Fitting the Campgrounds for Moors and Christians in Carrer la Mar Beach
23.30 "Local festival opening speech".
24.00 Salve to the patron, the Mare de Déu dels Desemparats (the Defenceless´ Virgin)
Sunday, 12th of October MAIN DAY
07.00 Landing at Carrer la Mar Beach and Embajada ("Embassies" -parleys between the two opposing bands-) in La Illeta Watchtower with arcabucería (shots of musketry) and Christian grouping in the Feaster Castle.
18.00 Music bands´ Parade through Generalitat Av. and at 19.00h Big Christian-Moorish Parade with Captain´s boatos through Generalitat Av.
Monday, 13th of October, "2nd PARADE"
08.30h Despertá
11:30h Moorish Embassy -Speech- at the Castle (Pl. St. Christol Lez Ales)
19:00h Moorish-Christian Parade through Generalitat Av.
Tuesday, 14th of October,"RETRETA"
08:30 Despertá -wake -up with with shots of musketry-
12:00 Christian Embassy -Speech- and afterwards informal Entradeta (parade) from the Castle.
20:00 RETRETA (carnivalesque parade) in Generalitat Av.
Wednesday, 15th of October
08:30h. Despertà -wake-up with shots of musketry-
12:00h. Flowers and fruits´s Tribute to the patron, the Mare de Déu dels Desemparats (the Defenceless´ Virgin). Start from Junta Festera.
14:00h. Big feaster "Mascletà" (noisy fireworks) to Saint Theresa
20:00h. Solemn procession from Canalejas Sq. and after the Procession FIREWORKS CASTLE to the patron, the Mare de Déu dels Desemparats
This office does not assume responsibility for sudden changes or variations of the events published on this site.