Actividades en familia 8 de noviembre en El Campello
Actividades para toda la familia en El Campello el sábado 8 de noviembre. Visita guiada a la Illeta, Media Maratón, actividades deportivas, circo... ¡Os esperamos!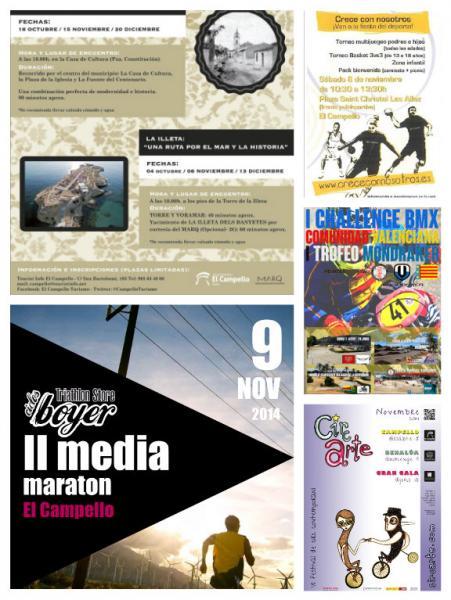 Description:
Actividades culturales
Dates:

Starts: 08/11/2014
Ends: 09/11/2014
10.00h. Visita guiada torre de la Illeta. Acompáñanos a conocer la torre de la Illeta y el paseo de la Voramar de les Escultures. Visita gratuita, previa inscripción en la Oficina de Turismo (Tel: 965634606, Mail campello@touristinfo.net). Opcionalmente, también podréis visitar el Yacimiento Arqueológico de la Illeta dels Banyets (cortesía del MARQ, precio 2€). http://blog.elcampelloturismo.com/2013/09/30/visitas-guiadas-en-el-campello/
10.00h. II Media Martón El Campello (salida desde el Pabellón Polideportivo Municipal). Información e inscripciones en http://www.kultrace.es/ii-media-maraton-el-campello/
10.00 – 14.30h. y 16.00 – 20.00h. Feria del corredor en el interior del Pabellón Polideportivo Municipal, con stands de marcar deportivas. De 16.00 a 20.00h. habrá castillos hinchables para los más pequeños, zumba a las 18.00h. y body combat a las 19.00h. http://www.kultrace.es/ii-media-maraton-el-campello/
10.30h. – 13.30h. "Crece con nosotros" evento deportivo para toda la familia, con torneo de baloncesto, concurso de puntería, zona infantil y castillos hinchables y concursos y sorteos.En la Plaza Saint Christol Les Alez (plaza del Ayuntamiento)
11.00 – 20.00h. Circarte http://circarte.com/programacion-2014/
11:00h. Apertura del MERCADITO CIRCARTESANO. Plaza Canalejas (plaza de la Iglesia). A las 16h, talleres artesanos para niños y niñas, con inscripción en cada puesto.
12:00h y 13:30h. BOTPROJECT. Plaza Canalejas. Todos los públicos. 30min. (cama elástica).
17:30h. COMBINADO DE CIRCO CIRCARTE. Casa de Cultura. Todos los públicos. 60min. Con Umami DanceTheatre (danza acrobática), Acrompactados (acrobacia), La cocorota (clown), A&D (báscula) y Wilbur (presentaciones).
19:30h. ALBADULAKE "Las Expertas". Teatro-Auditorio Pedro Vaello (Casa de Cultura). Todos los públicos. 60min. (equilibrios, acrobacias, danza, hula hoop, aros chinos, clown y cuerda aérea)
16.00h. – 20h. Campeonato de BMX de la Comunidad Valenciana. Circuito BMX (junto al polideportivo El Vincle)
Information compiled by:
TOURIST INFO EL CAMPELLO (eng)
Calle San Bartolomé, 103 - Esq. Ruperto Chapí,
03560 Alicante
Phone: 965634606
Fax: 965633548
Email: campello@touristinfo.net
This office does not assume responsibility for sudden changes or variations of the events published on this site.