VI CERTAMEN NACIONAL DE BANDES DE MÚSICA DE CINEMA CIUTAT DE CULLERA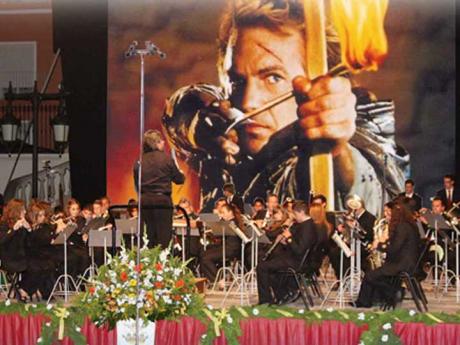 Description:
Actividades culturales
Dates:

Starts: 25/07/2015
Ends: 25/07/2015
VI

CERTAMEN

NACIONAL

DE

BANDAS

DE

MÚSICA

DE CINE
Sábado 25 de Julio, en los Jardines del Mercado
Casco Antiguo. Plaza la Virgen.
Hora: 22h.
PROGRAMA
El 25 de julio tendrá lugar el VI Certamen Nacional de Bandas de Música de Cine 'Ciudad de Cullera' - Memorial Rafael Talens Pelló.
En este certamen, que tendrá lugar un año más en los Jardines del Mercado municipal, cada banda participante interpretará un pasodoble obligado "Traner", de Rafael Talens Pelló, a quien va dedicado el evento, además de un pasodoble de libre elección y los fragmentos de la banda sonora de la película seleccionada junto con la proyección sincronizada de imágenes de la misma.
En el evento se podrá disfrutar del siguiente programa:
OBRA OBLIGADA: "TRANER" DE RAFAEL TALENS PELLÓ
DESFILE: 21:00 horas
AUDICIÓN: 22:00 horas

PROGRAMA
AGRUPACIÓ MUSICAL D'AGULLENT
Presidente: Pablo Cerdà Durà
Director: José A. Casanova Insa
Pasodoble: Lagartijilla
Autor: José Martin Domingo
Banda Sonora: La princesa Mononoke / Nausica del valle del viento
Director: Hayao Miyazaki
Música: Joe Hisaishi
Arr.: Kazuhiro Morita

AGRUPACIÓN MUSICAL "LA PRIMITIVA" DE POZO CAÑADA
Presidente: Lino Palacios Sánchez
Director: Constantino Alzallú Soria
Pasodoble: Pozo Cañada
Autor: Francisco Grau
Banda Sonora: Robin Hood-Prince of thieves
Director: Kevin Reynolds
Música : Michael Kamen
Arr.: Paul Lavender

UNIÓ MUSICAL DE LA POBLA DE FARNALS

Presidente: Juan José Torres Ferrer
Director: Juan José Catalá Borrás
Pasodoble: Las arenas
Autor: Manuel Morales Martínez
Banda Sonora: At world's end (Symphonic suite from Pirates of the Caribbean)
Director: Gore Verbinski
Música: Hans Zimmer
Arr.: Erik Rozendom


FUERA DE CONCURSO:
BANDA JOVE DE LA SOCIEDAD ATENEO MUSICAL *
Fiesta Taurina (Pd) de José de la Vega
"1492" La conquista del paraiso de Vangelis
Los chicos del coro de Bruno Coulais
El fantasma de la ópera de A. Lloyd Webber
*Con la colaboración del Coro del Ateneo Musical bajo la dirección de Xelo González Martí
Director: Oscar Biendicho Giménez
ENTREGA DE PREMIOS Y CLAUSURA DEL CERTAMEN
This office does not assume responsibility for sudden changes or variations of the events published on this site.