IX Jornadas Gastronómicas del Arroz- ARROSÀRIA 2014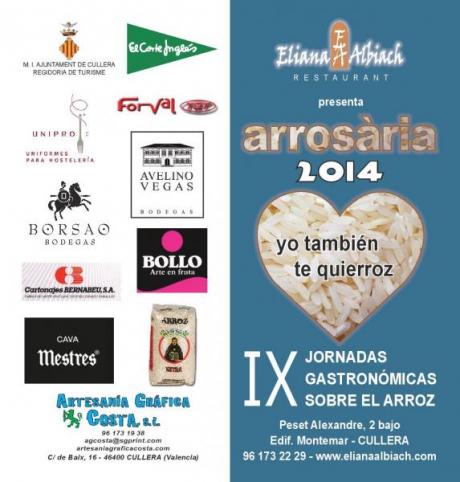 Description:
Actividades de ocio
Type: Gastronomía
Dates:

Starts: 04/11/2014
Ends: 25/11/2014
Restaurante Eliana Albiach presenta ARROSÀRIA 2014.
IX JORNADAS GASTRONÓMICAS DEL ARROZ.
Del 11 hasta el 16 de Noviembre.
Las reservas las podéis hacer al Tel. 96.173.22.29.
http://bit.ly/1x3gFmd
La Concejalía de Turismo del Ayuntamiento de Cullera, colabora en este evento gastronómico, que este año cumple su Novena edición. Del 11 al 16 de noviembre, se servirán en el Restaurante Eliana Albiach exquisitos platos de distintos arroces.
La Presentación de estas jornadas será el lunes 10 de noviembre a las 12 h. en el Restaurante Eliana Albiach (Peset Alexandre,2 Ef. Montemar – Cullera)
El restaurante Eliana Albiach de Cullera, ha organizado una edición más las Jornadas "Arrossària 2014" que se celebrarán del 11 al 16 de noviembre.
Esta propuesta que cumple su novena edición, ofrece a todos los asistentes diferentes y sugerentes platos que tienen como base, el arroz.
"Arrossària 2014", sigue con el lema "Yo también te quierroz", esta consolidado como una de los principales eventos gastronómicos que se celebran en Cullera y sitúa al Restaurante "Eliana Albiach", al frente, de la innovación de la cocina valenciana.
En estas jornadas se pueden degustar suculentos menús, en los que se ofrecen una mayor variedad de tipos de arroces, que se sirven no únicamente en el plato principal, sino también como entrante y postre.
Juan Giner, a través de esta propuesta pretende conseguir potenciar el arroz como referente autóctono, y ofrecer una amplia variedad del cereal, ya que se servirán platos elaboradores, con el tipo Sendra, Bomba, Gleva o Albufera (autóctonos de esta zona), y otros de diferente textura, como el Basmati de la India o Negro Silvestre de USA.
Los comensales tienen la oportunidad de comer el arroz, de una forma distinta al recetario tradicional y maridado, con los mejores vinos y cavas.
"Arrossaria 2014", es una iniciativa que ha se ha consolidado gracias al esfuerzo del restaurador Juan Giner, y cuenta con otros Chefs Invitados como son, José A. Torrent del Rte. Mornell (el Palmar), Agustín Roda Rte. La Perdi (Sant Mateu) y Pepe Torrent Rte. La Bodega de Algemesi (Valencia).
This office does not assume responsibility for sudden changes or variations of the events published on this site.