Culla regresa al Medievo con 'La Conquesta'
El casco histórico se convertirá en un escenario único.
Por segundo año consecutivo, los personajes de 'La Conquesta de Culla' regresan del pasado, haciendo que los visitantes difícilmente olviden esta emblemática historia, repleta de locuras por amor, pactos y enfrentamientos entre culturas.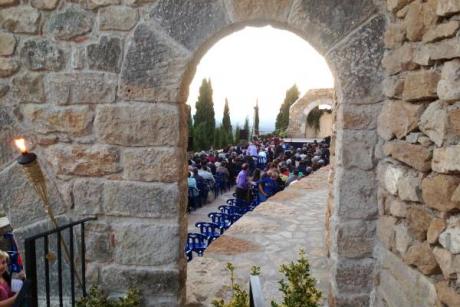 Description:
Actividades culturales
Dates:

Starts: 22/07/2014
Ends: 27/07/2014
El casco histórico, declarado Bien de Interés Cultural en 2004, se convertirá en un escenario único; uno de sus principales atractivos de la obra. Concretamente, se situará en la entrada del calvario, junto a la mítica 'porta nova', uno de los accesos mejor conservados del conjunto amurallado.
Actividades Medievales
Como complemento a la representación teatral, se han programado diversas actividades para todo el fin de semana.
Aquellas personas que acudan a la exposición de la 'Luz de las Imágenes' durante los días 26 y 27 de julio, podrán disfrutar de visitas tematizadas para la ocasión. Además, en la tarde del sábado, los más pequeños tendrán la posibilidad de participar en los juegos tradicionales organizados por el 'Centre Cultural El Castell'; así como en el taller de cuero realizado por 'Art e Maña' y patrocinado por el 'Programa d'Extensió Universitaria de la UJI' y el Ayuntamiento.
Por otro lado, algunos de los restaurantes de la población han querido sumarse a estas jornadas, por ello, han preparado menús basados en productos y recetas de la época.
Reserva de invitaciones gratuitas
La obra se realizará en exterior utilizando el escenario natural que ofrece el núcleo antiguo de la población. El aforo es limitado y se ha decidido realizar una doble representación a las 21:00h y las 23:30h. Por este motivo, es necesario recoger con antelación las invitaciones gratuitas que ya están disponibles en el ayuntamiento. También puede reservarse en el teléfono 964 44 63 25 o a través del mailto:ajuntamentdeculla@gmail.com
Más información en www.cullamagicaymedieval.es
This office does not assume responsibility for sudden changes or variations of the events published on this site.