Top restaurants in Region of Valencia
Publishing date 6/07/2017
Discover the restaurants you have to visit, from the awarded Michelin stars to the most innovative and dynamic, from the most appreciated by the gastronomes to the favourites of the public.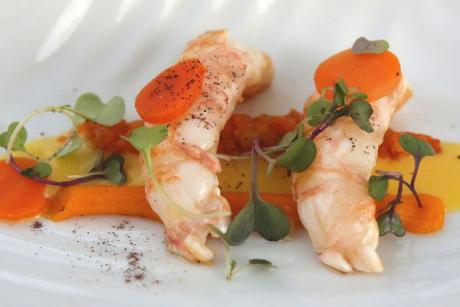 The Gastronomic Almanac of the Region of Valencia gathers a total of three hundred restaurants rewarded by their dynamism and daring attitude. We sum up some of the ones worth visiting so that you schedule them in your planning.

A lot of people say that eating in Quique Dacosta's restaurant (Dénia) is "to dive into four hours of happiness". Its three Michelin stars confirm this. He is also governing with a firm hand, in this case in Valencia and led by the chef Luís Valls, The Poblet. A Michelin star awarded to this restaurant due to the risky offer in the kitchen of this innovative establishment.

Ricard Camarena (Valencia) is the maximum exponent of the most absolute cares for the product, in this case the one coming from the green garden of Valencia. An excellent example of brand new start kitchen which has been awarded a Michelin star.

L'Escaleta (Cocentaina). A bet by the familiar character and the authenticity of the flavours of the region which has been awarded two Michelin stars.

We are still in Alicante. The flavours, smells and textures of Jávea and of Marina Alta are presents in Bon Amb, awarded with two Michelin stars.

The feminine and imaginative hand of Susi Díaz can be appreciated in the dishes of La Finca (Elche), a kitchen without stridencies and with clear vocation by the products from the local market which was awarded one Michelin star.

Riff (Valencia). Known as the German of the Mediterranean, Bernd gives the guests an excellent kitchen of author in another of the places awarded one Michelin star.

Something remarkable has happened in House Manolo (Daimús): The chiringuito in the beach with one Michelin star. Familiar tradition renewed and taste by traditional products. Typical kitchen from the seamen with the Mediterranean Sea like absolute reference.

We finish in Askua (Valencia). Exquisite charcoal-grilled meats offer a different bet in a place where rice and seafood are the absolute winners.

If you visit us you will be able to treat you to a luxury in innovative, gourmet or innovative restaurants which normally offer valuable traditional products of the orchard in Valencia and from the Mediterranean Sea.
Other details:
Comunitat Valenciana