Natural swimming pools in Region Valencia, they are looking for you
Publishing date 4/07/2017
Do you want to take a dip, freshen up and enjoy a unique landscape? It is not necessary to go to the beach: we have an ace in the sleeve which will make you fall in love. Come and discover the natural swimming pools in Region Valencia.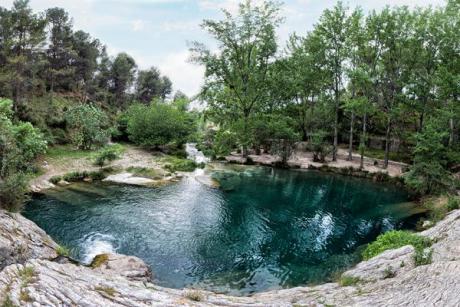 Pou Clar (Ontinyent). His name already says everything: Pou Clar (clear well) is one of the most beautiful natural swimming pools, mainly because of its crystal clear waters which during thousands of years have excavated some beautiful pools in the calcareous rock. Don't be afraid of its 13 degrees of temperature, once inside, surrounded by nature, you will have a great time.

Los Charcos (Quesa). Rio Grande is responsible of the building of this natural spot which has given birth up to four different natural pools with the passing of time. The place is lovely, so do not forget to come well prepared: a picnic is always a good idea. Take a selfie with its photogenic cascade in the background!

La Fuente de los Baños (Montanejos). This natural pool is located Castellón, it is surrounded by lush vegetation, it has warm water (perfect for those being chilly); besides it has several hiking routes in its surroundings which are well worth a visit.

El Salto de la Novia (Navajas). With a height of some 60 metres and white like the veil of a bride, this waterfall is really impressive! It is not only beautiful, but it also is surrounded of legends. They say that here, long time ago, to ensure a beautiful and durable marriage; the brides had to jump from the top of the waterfall. True or false? We do not know it, there is something clear: the natural swimming pool of el Salto de la Novia is one of the places not to be missed in Castellón.

Les Fonts de L'Algar (Callosa d'en Sarrià). If you need to rest and charge your batteries with a good dose of nature, this is your place. Les Fonts de l'Algar are only a short drive in car from Benidorm and they are spectacular: the route along the course of the river will allow you to access to different swimming pools of turquoise water. Relax guaranteed, but, in high season it would be better to visit them weekdays since during the weekend it is usually a very crowded destination.

This is only the beginning because there are many more natural pools: The Gorgo de la Escalera en Anna, Gestalgar, El Charco, The Gruñidor, Bolbaite… You will love tourism of interior a lot!
Other details:
Comunitat Valenciana