Alicante goes on parting
Publishing date 8/09/2017
This is a not-stop move. And it is said summer has finished, but not the summer season. In the province of Alicante a lot of municipalities go on parting and to make your choice easy, we will give you a route for you to take good advantage of your time.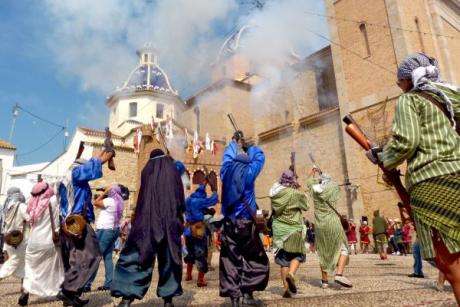 Altea celebrates its local festivities from 22th to 30th September. Choose among the numerous events of the programme in a very complete combination including the Festivities Patronales and those of Moros y Cristianos. What is the planning? Embassies and entrances, bands of music, stalls, parades, musical performances, fireworks display and the festival Festiporrat. Really intense, isn't it?

We continue talking about Elda, which is in Fallas; yes, you have listened right information. From 14th to 17th September, different acts will take place like the election of the ninot which will not be burnt down, the delivery of awards to the commissions of fallas, the floral offer to the Patrons of the festivities, Saint Crispín and Saint Crispiniano and the Procession, among others. If you miss Fallas, this is a good excuse to revive them.

In Ibi, Moros y Cristianos is celebrated from 15th to 17th September. This celebration has some antecedents almost five centuries old and in these festivities people dress up to simulate the Christian and Muslim troops, fight following a script repeated every year, in which the Christians, after the Muslim conquering of the castle of Ibi, gain again control of the village. The most striking act is the Entrance, worth seeing.

More patronal festivities. This time we go to Orxeta. The week before the last one in September, there will be 4 consecutive days filled with infinity of activities. The soul of the festivities are the "peñas", festivities which have as main character the good traditional cooking from the local land, liven up by the music of the popular bands, which play endlessly through the streets, keeping a festive atmosphere difficult to beat.

And we finish in La Vila Joiosa and the VII Setmana of l'Arròs. From 11th to 17th September, it will be possible to taste menus based upon rice in restaurants of the municipality. This is the particular homage to the essential product in the gastronomic tradition of La Vila and to the rice recipes. Surrender to its charm.
Imágenes de Altea cedidas por Miguel Llinares, Ibi, Manel Iváñez España
Other details:
Comunitat Valenciana