Fira de Tots Sants in Cocentaina
Publishing date 24/10/2017
A fair celebrated since 1346 and which has been declared Festivity of National Tourist Interest, this already gives you an idea of the wonderful plan we have ahead. Let's meet in Cocentaina!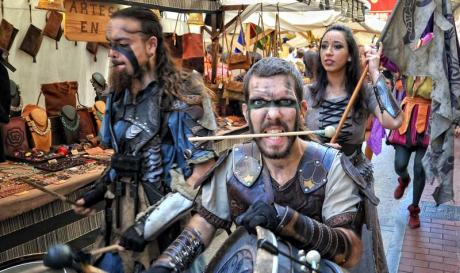 The Fira de Tot Sants in Cocentaina is the history of the municipality. Since1346, due to the privilege granted by Pere the Cerimoniós (II of Valencia and IV of Aragón) for this celebration, the Fira has taken place along centuries, plagues, epidemics, wars, social conflicts, periods of peace and progress and, mainly, because of the strong will of the village.
What is going to be the programme for this year? In addition to being a display of the traditional agricultural and farming activities, joined to the exhibition of agricultural machinery and means of auto motion; visitors will find artisan activities, Arab market, mediaeval market and other activities which gather, during five days, more than 400 exhibitors. The Mediaeval Market, Porrat Valencià, Judería and Arab Zoco present this year a unitary format like "Total Show". More than 200 performances you cannot miss!
Besides, the Fira de Tot Sants includes numerous cultural and sportive activities like exhibitions, book fair, contests for chorales, the fair of attractions for children, the exhibitions of horse mount and taming, music concerts, popular breakfasts in the fair, performances of groups of dances, diverse performances in the streets, joggling performances, illustrative workshops (smiths, looms, bulrush knitting, bread, etc.), exhibition and show of falconry.
Cocentaina takes a privileged place in a valley crossed by the river Serpis. It is surrounded of important mountains like the Montcabrer - one of the highest summits in the province - and the natural park of the Sierra of Mariola and the Serreta. Want to join in a hiking route?