Cocentaina holds a fair for All Saints' Day
Publishing date 21/10/2015
La Fira de Tots Sants (All Saints' Day Fair) combines tradition with the modern age in a magnificent display with hundreds of exhibitors offering a wide variety of products such as machinery, vehicles, gadgets, handicrafts, cattle, gastronomy… let's see if you have time for everything!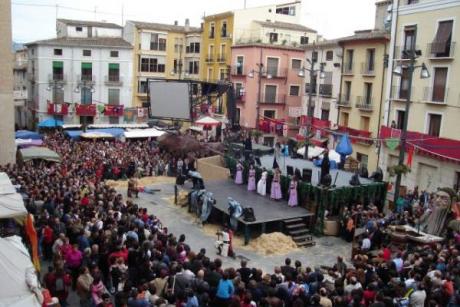 The Fira de Tots Sants has been celebrated since the Middle Age, in 1346, and therefore has been proved to be one of the oldest fairs in Spain. Nowadays it's considered a Festival of National Tourist Interest and is, without a doubt, one of the main events due to its convening power, as this fair welcomes around half a million visitors every year. The medieval Christian market and the Arab souk in the medieval districts of Vila and Raval are a bright and colorful recreation that fills the air of the streets from the old part of town with exotic aromas. There's also an endless number of cultural activities, a unique combination of music, dance, acrobatics, juggling, theater, paint, sculpture, information spreading and many other samples that delight the visitors year after year.

The fair is therefore a resource of great interest that echoes the name Cocentaina all through the State. Dates may vary a little but the 1st of November, All Saints' Day, is always included. This year 2015 the fair will be held from the 30th of October until the 1st of November.