XXII Carrera Restaurada de la Joya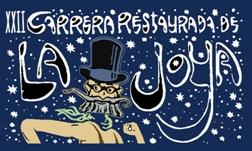 Description:
Programa de fiestas
Dates:

Starts: 30/01/2016
Ends: 06/02/2016
PROGRAMACIÓN
SÁBADO, 30 DE ENERO
13´00 horas. En la Sede de FEREVIN (Cuesta de las Carnicerias, s/n), CATA COMENTADA DE VINO de la Bodega Vegalfaro. Precio: 3 €
17´00 horas. VISITA GUIADA a las Cuevas de la Villa, para los participantes y acompañantes de la XXII Carrera de la Joya.
19´00 horas. En la Plaza de Albornoz (Plaza de la Villa) ENCENDIDO DE LA HOGUERA
19´20 horas. XXII CARRERA RESTAURADA DE LA JOYA. Para información e inscripciones: www.carreraspopulares.com
21´30 horas. La Mayordomía de San Antonio de " Los Pobres", ofrecerá a todos los asistentes patatas asadas en la hoguera, ajoaceite y vino. A continuación disparo de fuegos artificiales.
DOMINGO, 31 DE ENERO
09´00 horas. RECOGIDA DEL PAN BENDITO en el Barrio de La Villa.
12´00 horas. En la Iglesia del Salvador, MISA CONCELEBRADA en honor a San Antonio. A continuación procesión y reparto de pan bendito.
16´00 horas. En la Plaza de Albornoz (Plaza de la Villa) tendrá lugar la tradicional " Pará" (subasta de productos derivados del cerdo).
SÁBADO, 6 DE FEBRERO
11´30 horas. III CONCURSO DE CATADORES DE VINO " LA JOYA", organizado por el Club Atletismo Requena y la bodega Vinos y Sabores Ecológicos. El concurso tendrá lugar en la Bodega Vinos y Sabores Ecológicos. C/ La Iglesia, 6 La Portera. Para más información: 686 42 80 20
This office does not assume responsibility for sudden changes or variations of the events published on this site.