Thousand-year-old Olive trees In Cervera del Maestre
Publishing date 20/07/2017
There are trees which are impressive and make you stop and look at them. This is what happens with the Thousand-year-old Olive trees and in Cervera del Maestre, part of the Taula del Sénia, there is a big concentration of them which make up its valuable natural heritage.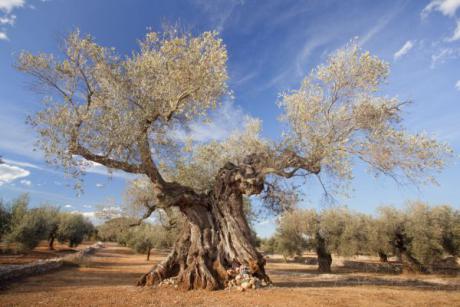 Olive trees 3,50 metres wide in trunk perimeter of trunk and 1,30 metres above the floor. They are the symbol of the identity and heritage of places like Cervera del Maestre in Castellón. If you look for something different, this is your plan. Next 3rd August, they will hold a day devoted to the thousand-year-old olive trees with a visit to the Centre of Interpretation Molí de L'Oli, tasting of oils from these wonderful specimens and as closing ceremony, a theatre representation with the olive tree as main character on scene.

The Molí de L'Oli, Site of Cultural Interest, it is a refurbished industrial complex which was in use until the 1920s. During your visit, you will be able to watch all the phases of the process of oil production: terraces for drying the olives, room for grind or milling of the olives, room for pressing and room for the tins where the precious liquid is conserved. In the room for pressing, you will be able to see an impressive wooden piece from the 17th century, more than twelve metres long and 4.000 kilos of weight. As impressive end; in Cervera del Maestre, they have prepared a tasting of oils from oils produced from thousand-year-old olive trees. You have to see it and try it! And at night, do not miss the play 'Olea'. Fire, dance, music and poetry interweave in this brief, intense and thrilling theatre play.
Cervera del Maestre has a lot to offer you. His emblematic castle houses myths and legends, discover its sources and natural places and enjoy its gastronomy. Have a great day!