The Magdalena festivities, a historical witness of Castellón
Publishing date 17/03/2014
The Magdalena Festivities in Castellón de la Plana are a historical witness of its origins. And that is precisely what is celebrated from March 22 to 30: the memory of the displacement of the city from the hill of Magdalena to the fertile coastline in 1251. This is done with events such as the Pregó (public announcement), the parade of penitents (a large parade with costumes, music and decorated carts), or the parade of Gaiates (ceramic, wheeled beacons that were formerly used to light swamplands at night), at the heart of which lies the famous romeria de les canyes (a pilgrimage in which participants carry large reeds).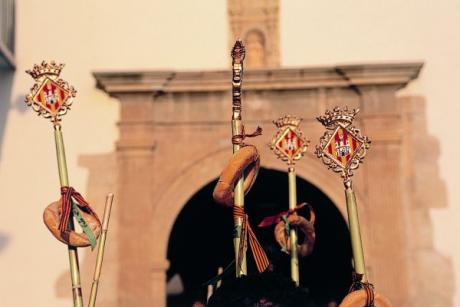 The Magdalena festivities are different from other festivities insofar as they commemorate the origins of the city and reaffirm its identity. The fair and festivities of the Magdalena are the manifestation of a city that keeps its history alive thanks to a festivity in which tradition, history and legend are amalgamated in the melting pot of popular culture.

The passing of time has added a plethora of entertainments to the traditional festivities, delighting locals and foreigners alike. In fact, during these festivities, the city becomes crowded with visitors coming to enjoy the vast amount of activities on offer.

Fireworks, concerts, shows, activities, musical bands, gaiates and collas (neighbours' associations) invade the streets of the city during these days, and joy and light mark the arrival of Spring.

The joy and festivities only end when the queens of the celebrations cry: "Magdalena vítol!" and the city is drowned in a storm of gunpowder. A farewell that marks the end of the festivities until the following year.