La Panderola, the tale of a "flying" train
Publishing date 30/12/2013
La Panderola, the steam trolley car that linked the towns of Onda and the Grao of Castellón from 1888 to 1963, has celebrated its 125th birthday this year. In order to commemorate the event, this exposition will be held until January 5.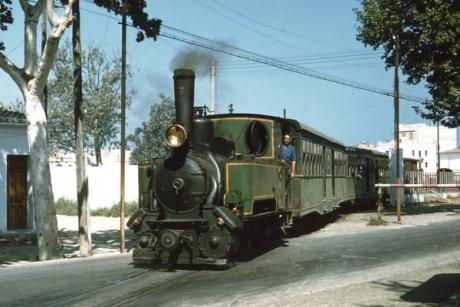 Having witness thousands of stories and touching experiences, La Panderola, whose name is due to the colour of its steam locomotive and its slow, irregular gait, is still present in the popular memory of Castellón, and there even was a song in which it was called the "flying" train.

This locomotive, which would mark the economic and social life of Castellón was undoubtedly one of the most important elements of transportation infrastructure in the province of Castellón. The development of Almassora, Burriana, Castellón, El Grao de Castellón, Onda and Vila-real was marked by this sorely missed trolley car, which became a key part of the economy and society of Castellón from 1888 to 1963.

In the exposition, which is displayed in the San Miguel Exposition hall in the Caja Castellón Foundation, you will be able to visit the manufacture plates for the locomotives, scale models, and pictures of the use and daily life on the line over time. In particular, the original two-axle passenger car for 16 passengers, which was especially restored for this exposition, occupies a central place in the San Miguel exposition room.