A cross on the road
Publishing date 17/03/2015
In the northern lands of Castellón, monumental stone crosses known as peirons mark from the XIV century roads and terms. Today, the Museum of Fine Arts in Castellón hosts an exhibition showing them in all its glory.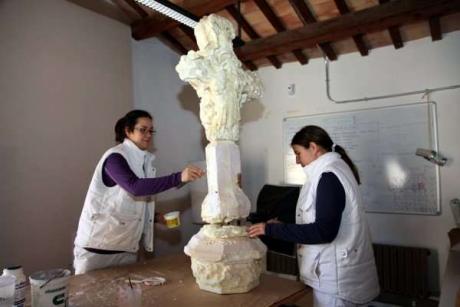 The Museum of Fine Arts in Castellón de la Plana hosts until April the 30th an exhibition ofPeirons,monumental stone crosses built between the fourteenth and twentieth centuries. The sample consists of ten replicates and 26 panels of these masterpieces of engraved stone. In this selection, the oldestpeirons were selected and ​​replicas were made of these and of others destroyed in 1936. The panels offer a brief description and archive images illustrating its beauty and grandeur.

The crosses are monumental sculptures worth of admiration, although many of them are or have been almost forgotten. Thepeirons,most dating back to the fifteenth century, are in the Valencia region since the reconquest of these lands by King James I the Conqueror and were a mute witness to the Christianization and conquest.

The building ofpeironsextends from the Els Ports shire and down to the city of Valencia. These stone monuments usually get up at the entrance of villages, at crossroads and even in the squares. The popular belief gives them an exorcist sense and considered them a permanent blessing for villages, fields and crops.

Come meet these monumental masterpieces made of stone! You have until the end of April.