BTT centers in Castellon
Publishing date 9/12/2015
BTT can be practiced there where the ground meets the desires of the user, although there are particularly attractive places. If you want to enjoy mountain bike tours, the province of Castellon is your best choice. The second most mountainous province of Spain offers you over 1000 marked km for you to enjoy with your bike.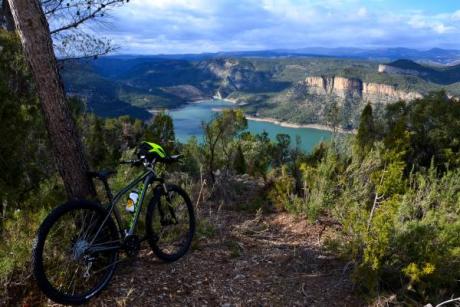 To ease your trails or bike rides, four BBT centres located in the towns of Montanejos (Alto Mijares), Morella (Ports), Navajas (Alto Palencia), and Torreblanca (Alta Plana) put at your service numerous opportunities for you to meet the many tours offered.

A Mountain Bike Centre is a free access space prepared for practitioners of mountain bikes (Mountain bike or MTB), which has a network of well-marked trails and a number of complementary facilities and support services for cycling. Whatever your level, the BTT centres of the province of Castellon will allow you to visit the most beautiful places on this land and ride safely and quietly. The Castellon BTT Centres offer you services and information about the BTT Centre itself and its surroundings, bike rental service, parking areas, areas equipped for washing and repairing bicycles, showers and toilets, and first aid kit. Information points located in different establishments and places in the region provide information on the BTT Centre as well as on the tourist resources of the area.

The BTT centres in Castellon offer you a high standard of quality in services and infrastructure, since they are certified and supported by the Department for Tourism of the Valencian Community. Get to know the Mountains of Castellon while you enjoy your favourite sport.