6th International Marathon of Castellon and 3rd 10k race, go faster, go further
Publishing date 25/11/2015
Castellon, with a great tradition in the competition of street racing, will host the key competition in athletics: the 6th Castellón City Marathon that, together with the 10k race will take place on Sunday, 6th December 2015. Enjoy this sporting event in a festive atmosphere. Don't miss out!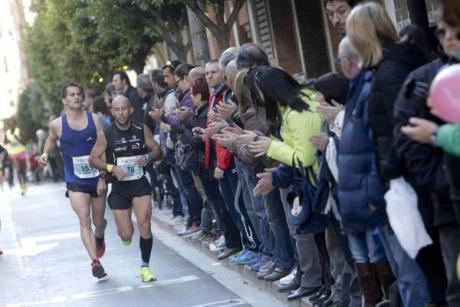 In this new edition, the circuit will be faster, almost flat and especially urban by positioning the final kilometres through the city centre to feel closer to the warmth of the people. Being a single circuit, spectators will see the runners following points 1 to 9 and also check their progress on screen, so you won't miss anything. The finish line will be on Paseo Ribalta and the circuit will pass through the most emblematic places of Castellón and Grao; La Farola, UJI Bridge, Tombatossals' Statue, Basilica of Lledó, the Auditorium, Plaza Maria Agustina, Plaza de la Mar, Avenida Casalduch, Calle Herrero, always looking for the warmth of the citizens, so necessary in this type of competitions.

Both national and international athletes from different countries, such as Kenya, Ethiopia participate in the Marathon to try to beat the previous mark of 2:10:08 by Carles Castillejo, proclaimed Spanish champion, which gave him direct access to the London Olympics.

Parallel to the Castellon International Marathon, the 10k race will be held on the same day with a different circuit. The previous day there will be other activities such as the Breakfast Run, popular and fun train that will take place in Parque Ribalta, the Children's Marathon or the Expomaratón. The aim is to achieve a high turnout. For this reason, there will be prizes for the winners in the general categories, but also prizes for the top athletes of Valencia Region and local athletes. Women's participation has also been enhanced, equalling the amount of awards in all categories. Are you up for it?