Vuelta ciclista a la provincia de Castellón y Trofeo Penyagolosa
XXXIII Vuelta ciclista a la provincia de Castellón y XXXVI Trofeo Penyagolosa 2015
La carrera "del mar a la muntanya" recupera este año el emblemático Desert de les Palmes y subirá a Benafigos, uno de los pasos de montaña más exigentes de la provincia, inaudito desde 2006.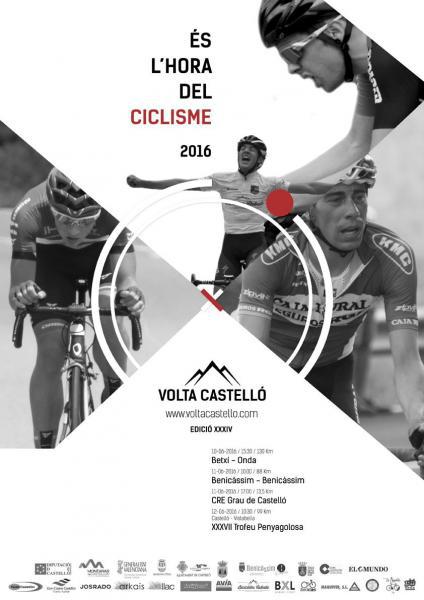 Description:
Actividades de ocio
Type: Deportes
Dates:

Starts: 10/06/2016
Ends: 12/06/2016
PRIMERA ETAPA
La primera etapa de la Volta a Castelló partirá de Benicàssim por vigésima ocasión. La carrera se dirigirá de salida a la Urbanización de la Coma para afrontar un explosivo repecho (3ª categoría/3,2km al 6%). Desde allí la carrera se adentra en el interior de la provincia por el Alcalatén para subir a Costur (3ª categoría/7km al 3'5 %). Una vez en les Useres, la carrera buscará de nuevo la Plana Alta para subir el Desert de les Palmes (2ª categoría / 8km, al 5%) a 12 kilómetros de la línea de meta: distancia suficiente para romper la carrera y abrir diferencias en la meta de Benicàssim.
SEGUNDA ETAPA
La segunda etapa traslada la carrera a Onda y a la Serra d'Espadà, optando por repartir la dureza por todo el trazado, en lugar de concentrarlo al comienzo como el año pasado . Con un kilometraje que acaricia el límite de la categoría (140 kilómetros), el trazado recorre el Port del Marianet (2ª categoría/ 4'4km al 5'2%) y serpentea por la carretera de la sierra y del Alto Palancia con constantes repechos antes de subir a la Nevera (2ª categoría/ 4'6km al 5'2%). Desde su cima el recorrido da una tregua de 30 kilómetros. Pero el rodeo final al Pantano de Sitjar y a María Cristina volverá a endurecer la carrera.
TERCERA ETAPA

Y para concluir la Volta a Castelló, el equipo de José Cabedo ha diseñado un XXXVI novedoso. Sólo 94'2 kilómetros "del mar a la muntanya" (se sale a 5 metros sobre el nivel del mar y se concluye a 1235), pero un trazado repleto de dinamita. La carrera sale del Grau de Castelló, sube a la Coma (3ª categoría) para, quizá, provocar una escapada y se dirige después hacia el Alcalatén ganando altura progresivamente. A 40 kilómetros para la meta, la carrera entra en una fase sin descanso: primero el Alto de la Bassa (3ª categoría: 2'5km al 5%), después el Alto de Benafigos (1ª categoría: 10km al 6%) y la etapa concluye en Vistabella (1ª categoría: 7km al 5'5%).
Information compiled by:
TOURIST INFO CASTELLÓN (eng)
Plaza de la Hierba s/n, s/n
12001 Castellón
Phone: 964358688
Fax: 964358689
Email: castellon@touristinfo.net
This office does not assume responsibility for sudden changes or variations of the events published on this site.