vii Jornadas gastronómicas del arroz a banda Grao de Castellón
séptima edición 2017
Disfruta de la hora de comer en el Grao de Castellón con las mejores recetas de "Arroz a Banda" castellonero. Del 20 de octubre al 19 de noviembre , no olvides reservar tu plaza en cualquiera de los restaurantes participantes.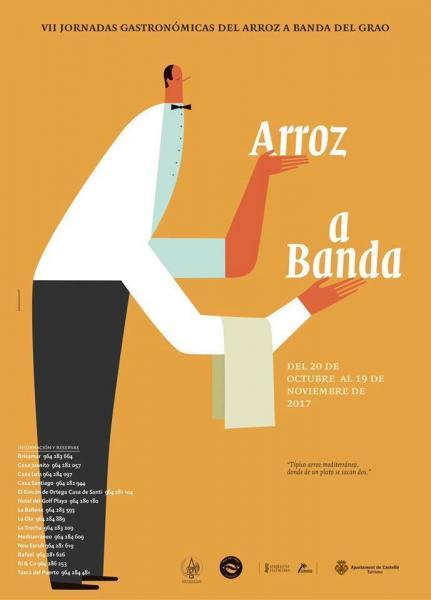 Description:
Actividades de ocio
Type: Gastronomía
Dates:

Starts: 20/10/2017
Ends: 19/11/2017
El Ayuntamiento de Castellón colabora en esta iniciativa que promueve el consumo de Peix del Grau y potencia la gastronomía local como atractivo turístico.
Catorce restaurantes del Grau participan en la séptima edición de las Jornadas Gastronómicas del Arroz a Banda que se celebran del 20 de octubre al 19 de noviembre. "Estas jornadas combinan dos elementos esenciales en la cultura grauera: el sector pesquero y la cocina marinera por lo que desde el Gobierno municipal repetimos apoyo a este evento", han destacado las concejalas de Consumo del Ayuntamiento de Castellón, Mary Carmen Ribera, y de Turismo, Patricia Puerta, que han presentado hoy esta nueva edición junto a empresarios de Grao Centro Gastronómico, la asociación que promueve estas jornadas.
Ribera ha destacado que con el apoyo a esta iniciativa "desde la Concejalía de Consumo promovemos la compra de Peix del Grau en lonja y promocionamos el consumo de los productos locales, que aportan un valor añadido a nuestra gastronomía". Por su parte, la concejala y presidenta del Patronato Municipal de Turismo, Patricia Puerta, ha destacado que estas jornadas contribuyen "a consolidar al Grau y a Castellón como marca gastronómica de calidad y convertir nuestra gastronomía en un atractivo turístico de primer nivel".
La séptima edición de estas jornadas gastronómicas se prolongará hasta el 19 de noviembre. Durante este periodo, los catorce restaurantes del Grao participantes ofrecerán un menú de mediodía compuesto de aperitivo de la casa, entrante, arroz a banda completo y postre de la casa por un precio por persona de entre 24 y 28 euros según el restaurante.
Este año se han sumado a la iniciativa los siguientes restaurantes: Brisamar, Casa Juanito, Casa Lola, Casa Santiago, El Rincón de Ortega Casa de Santi, Hotel del Golf Playa, La Ballena, La Ola, La Trocha, , Nou Escull, Rafael, Ri & Co Bistro y Tasca del Puerto.
"Con estas jornadas se pretende promocionar el consumo del pescado fresco local, reivindicar un plato tan típico de la cocina marinera como el arroz a banda y dar a conocer el sector de la restauración del Grao y su enorme potencial", han insistido tanto los restaurantes organizadores de las jornadas como las concejalas Mary Carmen Ribera y Patricia Puerta.
Puede consultar para más información aquí.
Information compiled by:
TOURIST INFO GRAO DE CASTELLÓN (eng)
Paseo Buenavista, 28
12100 Castellón
Phone: 964283621
Fax: 964283202
This office does not assume responsibility for sudden changes or variations of the events published on this site.