Semana Santa con niños
Rock&Joc al Litoral
Esta Semana Santa, no dudes en apuntarte a las actividades que se realizan el día 25 de marzo y 2 de abril para los más pequeños. Disfruta de los días de descanso jugando en familia.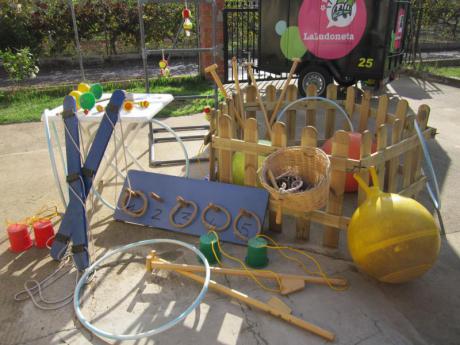 Description:
Actividades culturales
Dates:

Starts: 25/03/2016
Ends: 02/04/2016
VIERNES 25 DE MARZO
Lugar: Playa del Pinar, frente a la hamburguesería Pingüins
12 h. Juegos participativos con la Ludoneta.
12'30 h. Concierto de rock con los Criptozoos
17 h. Juegos participativos con la Ludoneta
19 h. El Show
20 h. Concierto con Ramonets
SÁBADO 2 DE ABRIL
Lugar: Playa del Pinar, frente a los Restaurante Puerto Playa y la Ola
12 h. Olimpiadas familiares
18 h. Juegos participativos con la Ludoneta
La Ludoneta: El juego no tiene edad, es pacificador, universal e intercultural, acerca las generaciones y produce cohesión social y familiar. Y sobre todo, es divertido. La Ludoneta está enfocada a la participación de personas de todas las edades y con metodología basada en el juego libre, con: zancos, golf vertical, hula hoops, pesca, anillas, pelotas saltarinas, rompecabezas de números, hockey de mesa, tableros para pintar, billar, juegos en paellas y muchos más.
El Show: …y seguimos jugando. Pero esta vez con un juego de la oca gigante. Entre todos, echamos el dado gigante y superamos pruebas para seguir avanzando. Bailaremos, saltaremos, jugaremos y nos divertiremos, conducido por un animador que en cada parada de la ficha,
propondrá un nuevo reto. Para todas las edades.
Olimpiadas Familiares: están dirigidas a la participación de parejas en 9 pruebas originales y adaptables a las habilidades de cada cual. Así, los participantes podrán probar a traer un vaso con agua en un patinete de un punto a otro, hacer un dibujo con el pie (o alternativamente con la mano opuesta), encajar canicas en unas paellas, resolver un rompecabezas, acertar de espaldas en un cesto con una pelota, o recorrer unos metros a tres pies. El recorrido tiene una duración aproximada de 45 minutos por pareja y pueden participar varias parejas simultáneamente, llegando a una capacidad total en esta actividad de unos 180 usuarios.
Information compiled by:
TOURIST INFO GRAO DE CASTELLÓN (eng)
Paseo Buenavista, 28
12100 Castellón
Phone: 964283621
Fax: 964283202
This office does not assume responsibility for sudden changes or variations of the events published on this site.