Fantasti'cs jornadas de literatura fantástica, ciencia ficción y terror, en Castellón 2015
Fantasti'cs VI jornadas de literatura fantástica, ciencia ficción y terror, en Castellón 2015
Jornadas de literatura fantástica, ciencia ficción y terror con diversas actividades, presentación y concurso de cortometrajes.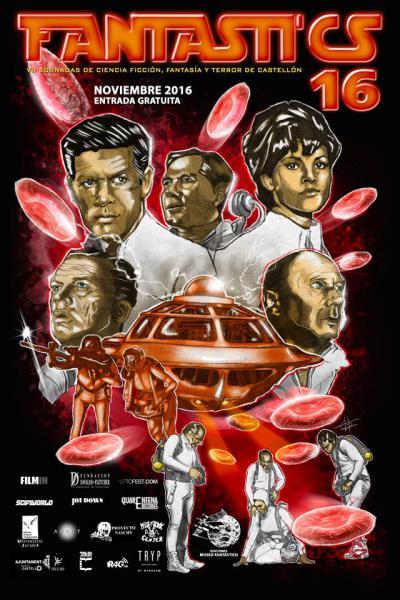 Description:
Actividades culturales
Dates:

Starts: 31/10/2016
Ends: 26/11/2016
Lugar:

Librería Argot (C/ San Vicente 16, Castellón)

Teatro del Raval (C/ Conde Pestagua 38, Castellón)


Programa:

Actividades en la librería Argot

Sábado 31 de Octubre:

19:00 a 20:00 h. Fiesta Truco o Trato con concurso fotográfico vía Facebook/Argot. Caramelos y sustos para toda la familia.


Viernes 6 de Noviembre:

19:00 a 20:00 h. Presentación de la novela "Usted ya lo sabe", por Aurora Martell. Neopatria

Sábado 7 de Noviembre:

10:00 a 10:30 h. Presentación de las novedades de la editorial "Watashi", por César Asendo.

10:30 a 11:00 h. Presentación de "45 clásicos de culto", por Iván Palmarola.

11:00 a 11:30 h. Presentación del libro "Serie B", por Miguel Ángel Plana y Álex Plana.

11:30 a 12:00 h. Presentación del libro "Cine fantástico y de terror Español", por Carlos Benítez y Montse Rovira.

12:00 a 12:30 h. Presentación del Fanzine "Kronomonstruo" y "Fantastic Film Neutrón", por José María Gil.

12:30 a 13:30 h. Presentación de "Versión Original" y "La Guerra de las Galaxias Scrapbook", por Tato Escriche.

17:00 a 18:00 h. Presentación "Castellón en sesión continua", por Clara Ribés.

18:00 a 19:30 h. Presentación "Penumbra", por Ángel Gómez Rivero.

19:30 a 20:00 h. Lectura del acta del Certamen de micro cuento FANTASTI'CS 2015.

Actividades en el Teatro del Raval

Muestra de Cortometrajes FANTASTI'CS 2015

Sábado 7 de Noviembre:

20:00 a 20:15 h. Presentación de la serie: "VERSIÓN ORIGINAL: LA LUZ INTERIOR", de Tato Escriche.

20:15 a 20:45 h. "CINEMA SIN PARADISO", de Nuria Ibáñez y Clara Ribes.

20:45 a 21:00 h. "AÚN HAY TIEMPO", de Albert Pintó.

21:00 a 21:10 h. "1:58", de Rodrigo Cortés.

21:10 a 21:30 h. "ULTRAVIOLETA", de Paco Plaza.

21:30 a 21:40 h. "TITÁN", de Álvaro González.

21:40 a 21:50 h. "THREE WISE MONKEYS", de Miguel Ángel Font.
21:50 a 22:10 h. "TIME AFTER TIME", de Pablo Silva Glez. & Peris Romano.

22:10 a 22:25 h. Entrega de premios al mejor Cortometraje y a las tres personalidades: José María Gil, José Gracia y Tato Escriche.
Information compiled by:
TOURIST INFO CASTELLÓN (eng)
Plaza de la Hierba s/n, s/n
12001 Castellón
Phone: 964358688
Fax: 964358689
Email: castellon@touristinfo.net
This office does not assume responsibility for sudden changes or variations of the events published on this site.