IV Concurso de Fotografía "VACA DE CASTALLA" 2015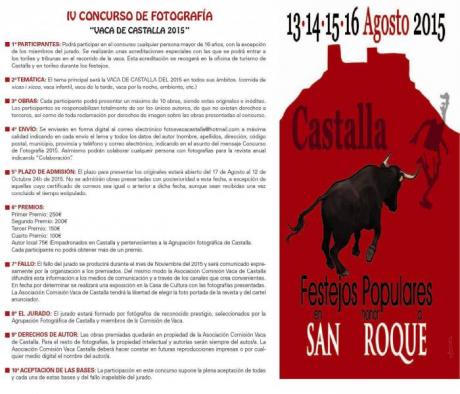 Description:
Premios y concursos
Dates:

Starts: 13/08/2015
Ends: 12/10/2015
Bases de concurso:
1. PARTICIPANTES: Podrá participar en el concurso cualquier persona mayor de 16 años, con la excepción de los miembros del jurado. Se realizarán unas acreditaciones especiales con las que se podrá entrar a los toriles y tribunas en el recorrido de la vaca. Esta acreditación se recogerá en la oficina de turismo de Castalla y en toriles durante los festejos.
2. TEMÁTICA: El tema principal será la VACA DE CASTALLA DEL 2015 en todos sus ámbitos.
3. OBRAS: Cada participante podrá presentar un máximo de 10 obras, siendo estas originales e inéditas. Los participantes se responsabilizan totalmente de ser los únicos autores, de que no existan derechos a terceros, así como toda reclamación por derechos de imagen sobre las obras presentadas al concurso.
4. ENVÍO: Se enviarán en forma digital al correo electrónico fotosvacacastalla@hotmail.com a máxima calidad indicando en cada envío el lema y todos los datos del autor (nombre, apellidos, dirección, código postal, municipio, provincia, teléfono y correo electrónico, indicando en el asunto del mensaje: Concurso de Fotografía 2015. Asimismo podrá colaborar cualquier persona con fotografías para la revista anual indicando "Colaboración".
5. PLAZO DE ADMISIÓN: El plazo para presentar los originales estará abierto del 17 de Agosto al 12 de Octubre de 2015. No se admitirán obras presentadas con posterioridad a esta fecha, a excepción de aquellas cuyo certificado de correos sea igual o anterior a dicha fecha, aunque sean recibidas una vez concluido el tiempo estipulado.
6. PREMIOS:
Primer Premio: 250 €
Segundo Premio: 200 €
Tercer Premio: 150 €
Cuarto Premio: 100 €
Autor Local: 75 € (Empadronados en Castalla y pertenecientes a la Agrupación fotográfica de Castalla).
Cada Participante no podrá obtener más de un premio.
7. FALLO: El fallo del jurado se producirá durante el mes de Noviembre del 2015 y será comunicado expresamente por la organización a los premiados. Del mismo modo la Asociación Comisión Vaca de Castalla difundirá esta información a los medios de comunicación y a través de los canales que crea convenientes. En fecha por determinar se realizará una exposición en la Casa de Cultura con las fotografías presentadas. La Asociación Comisión Vaca de Castalla tendrá la libertad de elegir la foto portada de la revista y del cartel anunciador.
8. JURADO: El jurado estará formado por fotógrafos de reconocido prestigio, seleccionados por la Agrupación Fotográfica de Castalla y miembros de la Comisión de Vaca.
9. DERECHOS DE AUTOR: Las obras premiadas quedarán en propiedad de la Asociación Comisión Vaca de Castalla. Para el resto de fotografías, la propiedad intelectual y autorías serán siempre del autor/a. La Asociación Comisión Vaca Castalla deberá hacer constar en futuras reproducciones impresas o por cualquier medio digital el nombre del autor/a.
10. ACEPTACIÓN DE LAS BASES: La participación en este concurso supone la plena aceptación de todas y cada una de estas bases y del fallo inapelable del jurado.
This office does not assume responsibility for sudden changes or variations of the events published on this site.