Canals celebrates its festival with the largest bonfire in the world
Publishing date 11/01/2017
On January 16, 17 and 18, the town of Canals celebrates the festival honoring its patron saint San Antonio Abad.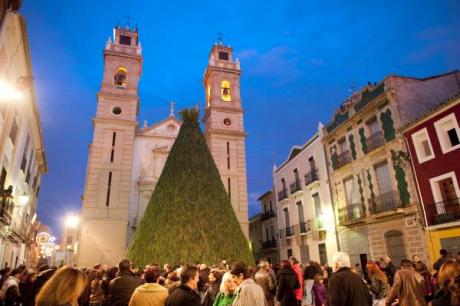 Every January, the Valencia town of Canals dresses up to celebrate. On the 16th, the first day of the festivities, the biggest bonfire in the world, according to the Guinness World Records, known as the "cremà de la Foguera", is lit. This spectacle of fire and purification is well worth seeing. The construction of the bonfire begins two weeks before with the "plantà", or "planting", of an 18-meter pine tree to which trunks, branches and leaves are added. Emotion and festiveness reign when the fire begins to gain strength.

The celebration, declared a festival of regional interest, continues the next day by paying homage to the patron saint San Antonio Abad with a mass in his honor and a huge procession. In the religious parade, men carry the image of the patron saint on their shoulders through the streets of the town. On the 18th, the day begins with the "parells", a monumental parade consisting of festivalgoers who ride through the streets on horseback or in carriages handing out thousands of toys and candy to the people.

Traditionally, people invite friends over to eat typical sweets and drink mistelle. The party ends Sunday night with baked rice casseroles, a typical local dish. Fun, food and entertainment characterize one of the most fascinating of the region's festivals for tourists and visitors due to the size of the bonfire and the procession and the intensity of the celebration.