Moors and Christians in Calp, the miracle of a festival
Publishing date 14/10/2013
The Moors and Christians festival in Calp are held in honour of "Cristo del Sudor". This fantastic event is different to most because it's based on a historic episode exaggerated by the local legend of Miracle de Caragol (Caragol's miracle). Despite this it still retains its distinctive Mediterranean character with fireworks and gunpowder, culture and art, tradition and fun. Come and see how Calp commemorates its history from 18 to 22 October.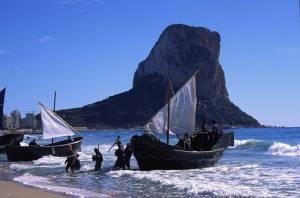 A peal of bells and mortar fire mark the start of festivities on the Friday. In the afternoon, after the parade of bands, the festival proclamation will be given by Manuel Gómez, after which the flags are raised and the candle offering is made. The main event on Saturday revolves round the entrance of the Moors and Christians. On Sunday, the Saracen fleet is sighted behind the rock of Ifach, preparing to storm the town from Arenal beach. The battle for the town begins with the "Desembarco" (disembarkation).  The next day, the second battle takes place, followed by the performance of the Miracle, a strange and marvellous event that took place on 22 October 1744, when the town was saved from the betrayal by the Moor Moncófar, who handed the town over to the Tunisian army.  But, "Cristo del Sudor" granted superhuman strength to a weak boy named Caragol, who managed to slam shut the heavy doors to Portalet all by himself, saving the town from the Saracen invasion. The main event on Monday is a community meal of Pilotes de Putxero (stewed dumplings) provided by both armies and the standard-bearer of the local Moors and Christians association. The festival concludes that same afternoon with a solemn procession in honour of "Cristo del Sudor".
Gunpowder, fireworks and music take over the streets of Calp for several days. The town is flooded with light and colour, with music band parades, firework displays, candle offerings, processions and street parties. It's festival time in Calp, with celebrations in honour of "Santísimo Cristo del Sudor", organised by the Association of Moors and Christians, with the collaboration of the Festival Commission, who successfully blend religious ceremonies with historic re-enactments and entertainment.