Teatro Infantil "El fantástico viaje de Jonás el espermatozoide"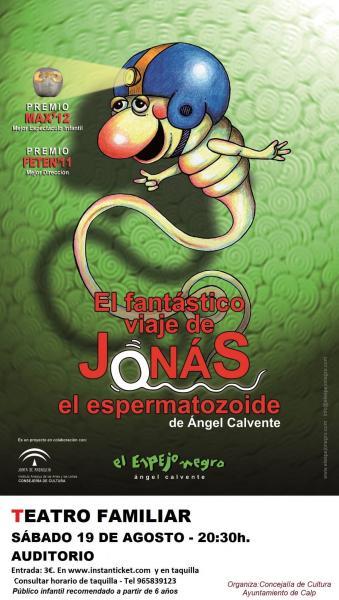 Description:
Actividades culturales
Dates:

Starts: 19/08/2017
Ends: 19/08/2017
Address:
Avda. Mas Nou,s/n; Casa de Cultura
City: Calp
Fecha:
Sábado, 19 Agosto, 2017 - 20:30
Ubicación:
Auditorio - Casa de Cultura
Más Información:
El Espejo Negro presenta "El fantástico viaje de Jonás el espermatozoide" de Ángel Calvente, premio Max al mejor espectáculo infantil 2012. Premio Fetén 2011 y premio teatro andaluz al mejor espectáculo infantil 2014.
Espectáculo recomendado por la red española de teatros, auditorios y circuitos y festivales de titularidad pública.
Para público familiar y niños a partir de 7 años.
Argumento:
Esta es la historia de Jonás, un diminuto y pequeño espermatozoide que se negaba a concursar en la gran carrera de la fecundación. Prefería dormir y vaguear plácidamente en el interior del testículo donde vivía. Pero el tiempo se acababa, y nuestro vago y dormilón espermatozoide tenía que emprender el viaje más fantástico y alucinante de toda su vida. Un viaje sin retorno, lleno de peligros y aventuras, en busca del óvulo perdido… ¿Lo conseguirá?
"El fantástico viaje de Jonás el espermatozoide es un nuevo caso de maravilla escénica... Resulta admirable cómo, en semejante época de absoluta saturación de estímulos, El Espejo Negro, consigue no solo dejar perplejo al público, sino también hacer reír, llorar, cantar y bailar. Todo desde un escenario. Algo hay en su arte de los viejos ilusionistas de antaño... ciertamente el final de Jonás constituye uno de los momentos más felices y hermosos de los vistos en un teatro desde hace mucho, mucho tiempo..." (Pablo Bujalance. Málaga hoy)
"Una técnica precisa, una historia bella y mucho con lo que reírse, tanto niños como adultos, desenlazan la trama de una obra dramática preciosa para los nuevos espectadores…" (Paco Inestrosa. La Opinión de Málaga)
El Espejo Negro desde su nacimiento en 1989 hasta hoy ha conseguido una veintena de galardones por sus diferentes producciones, como el Premio Max 2009 por "Un piojo llamado Matías" al Mejor Espectáculo Infantil y el Premio Fetén 2011 por "El fantástico viaje de Jonás el espermatozoide".
Datos técnicos:
Autor: Ángel Calvente

Dirección: Ángel Calvente

Intérpretes: Noé Lifona, David García y Susana Almahano

Escenografía: Ángel Calvente

Vestuario: Carmen Ledesma

Música: Antonio Meliveo / Varios

Iluminación: Antonio Regalado / Ángel Calvente

Duración: 1 hora​​
This office does not assume responsibility for sudden changes or variations of the events published on this site.