Semana Europea de la Movilidad Calpe 2016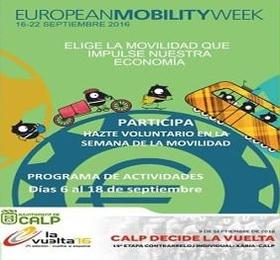 Description:
Actividades de ocio
Type: Deportes
Dates:

Starts: 06/09/2016
Ends: 18/09/2016
ace justo un año que Calp obtenía la medalla de bronce por su apuesta por la movilidad sostenible pro parte del Ministerio de Medio ambiente, Rural y Marino. Este año la Semana de la Movilidad es especialmente emocionante. Nos vestimos de gala con la llegada de la Vuelta Ciclista a España. Una etapa decisiva que será retransmitida televisimante y vista por más de 400 millones de personas en todo el mundo. Calp quiere convertirse en el PARAÍSO CICLOTURISTA, por ello os pedimos la participación activa en esta semana de movilidad (como voluntarios, participantes en la ruta ciclista del día 18). Volvemos a contar con la colaboración dels Festers de la Merced y los colaboradores de cada año.
6 DE SEPTIEMBRE | 12 horas en el Saló Blau de la Casa de Cultura
Presentación de la I Marcha BTT

Presentación I Gran Fondo Vuelta Turística 2016
9 DE SEPTIEMBRE | Vuelta Ciclista a España 19 etapa-contrarreloj Xàbia - Calp
HORARIO CONTRARRELOJ. De 13h - 18h. Meta en el Puerto
PARQUE VUELTA: Disfruta con tu familia frente al hotel SH Ifach

ENTREGA DE TROFEOS EN LÍNEA DE META
18 DE SEPTIEMBRE | DÍA DE LA BICICLETA - SEMANA DE LA MOVILIDAD
11.30h. Ruta Cicloturista familiar.
Itinerario: Salida desde la Plaza Colón / Avda. Europa / Puerto / Iglesia de la Merced.
12.30h. Llegada a la Iglesia de la Merced
Actividades:
Talleres para niños de educación vial a cargo de la policía local.

Colchonetas para los más peques.

Expositores I Marcha BTT, Gran Fondo Vuelta.
13h. Bienvenida e intervención de César Sánchez Pérez (Alcalde de Calp y Presidente de la Excma. Diputación Provincial de Alicante).
13.45h Sorteo entre los participantes de la ruta y los voluntarios de la Vuelta a España de diverso material deportivo, camisetas oficiales de la Vuelta Ciclista a España.
Colaboran: LTSPORTBIKE, CICLOS TONI Y SPORTS ZERO 95.
14h. Paella gigante. A cargo dels Festers de la Mercè (Donativo 2.5€).
INSCRIPCIONES PARA SER VOLUNTARIO EN LA VUELTA CICLISTA A ESPAÑA:
http://www.calp.es/es/www.calp.es/vuelta16
INSCRIPCIONES EN LA RUTA CICLOTURÍSTICA:
4ª Planta del Ayto (Agenda 21 Local).
Tel: 663500511 o bien por e-mail agenda21@ajcalp.es
Inscribiéndote en ambas actividades participas en el sorteo de tres bicicletas y material deportivo (cascos, culottes, mallas, etc.)
This office does not assume responsibility for sudden changes or variations of the events published on this site.