Oktoberfest Calp 2016
¡Vente a #OktoberfestCalpe! para #disfrutar de la mayor #fiesta de la #cerveza de la #CostaBlanca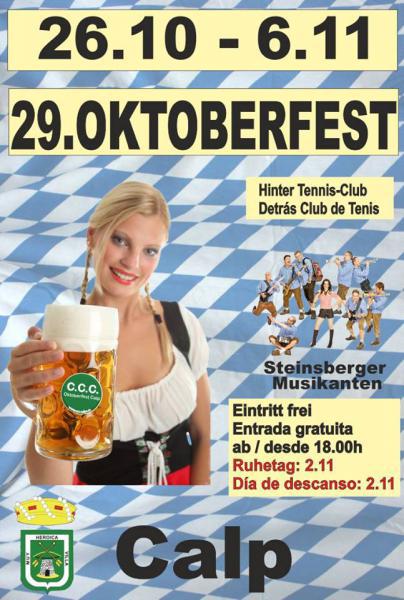 Description:
Programa de fiestas
Dates:

Starts: 26/10/2016
Ends: 06/11/2016
Miércoles 26/10/2016- Inauguración, picadura del barril por el alcalde, despedida de la reina de la fiesta 2015 y la coronación de la reina de la fiesta 2016.
Jueves 27/10/2016- Música bavara y edictos internacionales con los Steinberg Musikanten
Viernes 28/10/2016- Música de éxitos de fiestas de cerveza de los últimmos 20 años con Denise
Sábado 29/10/2016-Aegría de la Fiesta: Oktoberfestparty con Manu y los Steinsbergrs
Domingo 30/10/2016 -11:00h. hasta las 14:00h. Almuerzo tradicional y salchicha blanca. Noche:Oktoberfest Night-Fever-Party con los Ssteinsbergen
Lunes 31/10/2016- Concierto de música solicitada con los Steinsberger, noche de canciones populares con Denise
Martes 01/11/2016-Música de Oktoberfest de éxitos de los últimos 20 años con los Steinsbergern. Concurso: Levantar jarras de cervezas.
Miércoles 02/11/2016- DÍA DE DESCANSO
Jueves 03/11/2016-Fiesta non-stop ccon los Steinsbergrn. Gran concurso de ORDEÑAR: 1º premio 200€ n efectivo
Viernes 04/11/2016-Música con los Steunsbergern Zicke Zacke Heu Heu Heu
Sábado 05/11/2016-Party Oktoberfest con los Streinsbergrn, música de éxitos de los años 70/80/90 con Denise
Domingo 06/11/2016-A partir las 11:00h. Almuerzo con música en vivo: Country-Folk-Rock and Roll-Rockabily- fin de fiesta
This office does not assume responsibility for sudden changes or variations of the events published on this site.