Firacalp'16
VIII Feria de Gastronomía y Comercio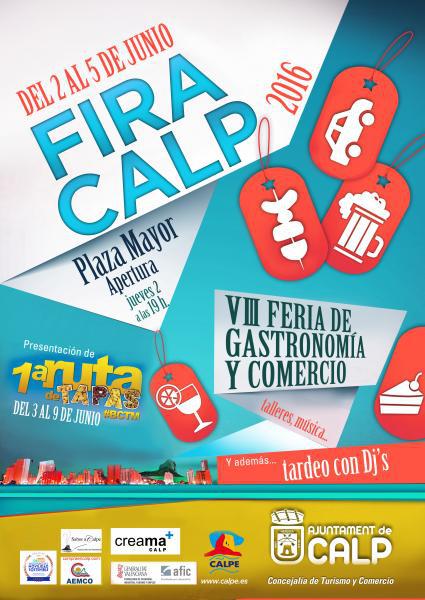 Description:
Grandes eventos
Dates:

Starts: 02/06/2016
Ends: 05/06/2016
Address:
Plaza Mayor, Avda. Mas Nou
City: Calp
LISTADO DE PARTICIPANTES Y TAPAS
PROGRAMA DE ACTIVIDADES
JUEVES 2 DE JUNIO
19h. Apertura feria y presentación de la Primera Ruta de Tapas #BCTM
19h. Batukada
VIERNES 3 DE JUNIO
De 10h a 13h. Sólo profesionales de hostelería. Curso de Barista Latte Art. A cargo de Alfonso Aguado Pesquera (Juez del Forum de Café Nacional y Formador): diferentes tipos de cafés, formación de emulsionamiento y zona barista, infusiones frías, parámetros molinillo y punto de molienda, presentación de frappés, smothies e infusiones frías Ice Tea, presentación de carajillo Premium Quemadito.
De 15h a 18h. Público en general. Curso de iniciación al café. Presentación de frappés, smotthies e infusiones frías Ice Tea, presentación de carajillo Premium Quemadito.
16h. Tardeo con Dj's 20h. Noche de Dj's
SÁBADO 4 DE JUNIO
11h hasta cierre de feria. Feria de comercio local, organiza Concejalía de Comercio, Agencia AFIC-CREAMA del Ayuntamiento de Calp y AEMCO (Asociación de comerciantes de Calp).
16h. Taller de Gintonic con Pablo Melian. Fundador de GinandTwitts. Las tendencias y diferencias entre distintas ginebras del mundo. Preparación de Gintonics. Maridaje de Gintonics.
De 17h a 20h. Taller de gastronomía infantil de galletas fondant a cargo del Sambori de Plaza Central.
20h. Taller de ritmos caribeños y animación a cargo de Calpe Salsea.
DOMINGO 5 DE JUNIO
11h. Presentación del Club Clásicos Calpe. Concentración de vehículos clásicos.
De 13h a 15h. Texas House Band. Música en vivo de country y Rock n Roll. 16h. Tardeo con Dj's.
23h. Cierre de Feria.
This office does not assume responsibility for sudden changes or variations of the events published on this site.