"Art al Carrer"
Exposición de arte al aire libre en el Casco Antiguo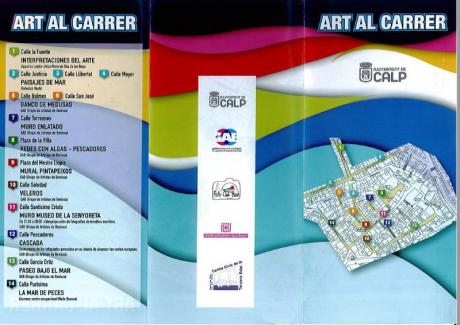 Description:
Actividades culturales
Dates:

Starts: 30/06/2017
Ends: 31/08/2017
Address:
Casco Antiguo de Calpe
City: Calp
El próximo viernes, 30 de junio, se inaugura una singular iniciativa que convertirá las calles del casco antiguo de Calp en un gran museo al aire libre con el título "Art al Carrer". Las concejalías de Dinamización del Casco Antiguo y Cultura junto al Grupo de Artistas de Benissa, Fotoclub Ifach, el Centro Ocupacional Maite Boronat y los usuarios del Centro Cívico de la Tercera Edad realizarán diversas intervenciones plásticas en el centro histórico que tienen el mar como hilo conductor y que podrán visitarse a lo largo de todo el verano.
Calle La Fuente: usuarios del Centro Cívico Mare de Dèu de les Neus expondrán "Interpretaciones del Arte" con paneles pintados que son recreaciones de pinturas reconocidas
Calles Justicia, Llibertat y Mayor mostrarán la colección fotográfica "Paisajes de Mar" del Fotoclub Ifach, esta iniciativa consiste en fotografías realizadas por los miembros del club que se expondrán en los balcones de estas casas.
Calle Purísima: los alumnos del Centro Ocupacional Maite Boronat mostrarán su aportación con la exposición "La mar de peces", una composición escultórica que aparecerá en las rejas de las casas.
El Grupo de Artistas de Benissa realizará una muestra de arte urbano con el título "Sea Art(e) 2017" Constará de ocho intervenciones:
-Calle García Ortiz: se expondrá "Paseo bajo el mar", que recrea un fondo marino, la obra se sitúa por arriba de la cabeza consiguiendo la sensación de estar paseando bajo el mar.
-Calle Pescadores: instalación de "Cascada" una pintura con 3800 piedras en memoria del mismo número de refugiados que han perecido intentando llegar a las costas europeas.
-Calle Santísimo Cristo: en la fachada del Museo de la Senyoreta se proyectará entre las 21 y las 24 horas un video de fotografías de temática marítima en color y blanco y negro. Todo el recorrido cuenta con frases de poemas en varios idiomas pintadas en la calzada de diversas calles.
-Calle Soledad: se expondrá "Veleros", tres veleros de tela y hormigón simularán navegar calle abajo.
-Plaza del Mestre Llopis: se instalará el mural "Pintapeixos" fruto del taller realizado por GAB este fin de semana.
-Plaza de la Villa: podrán observarse unas grandes redes de pesca cubiertas de algas tratadas con latex.
-Calle Torreones: acogerá la obra "Muro enlatado", un collage realizado con latas de conservas de pescado.
-Calles Balmes y San José: se expondrá "Banco de Medusas", se trata de un banco de medusas flotantes con paraguas colgados en los cables tendidos entre balcones e iluminadas por dentro.
El objetivo último de esta iniciativa es promocionar el arte urbano y fomentar la cultura pero también ofrecer un recurso turístico más que permita dar a conocer el casco antiguo a los turistas.
This office does not assume responsibility for sudden changes or variations of the events published on this site.