Busot ―the base camp for an adventure weekend
Publishing date 7/04/2016
Busot is the closest town to the mountain range Sierra del Cabeçó d'Or, a perfect place for climbing activities, speleology and mountain bike routes.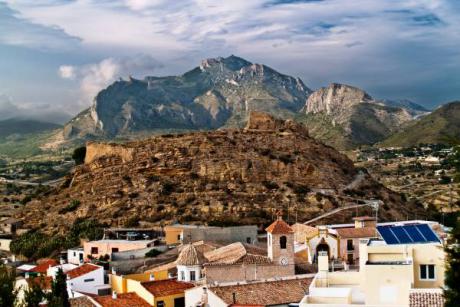 The mountain range Sierra del Cabeçó d'Or forms the magical universe of Busot. According to some traditional legends, the mountains hide a great treasure somewhere in their caves and beautiful valleys. Apart from the myth, the real El Dorado from this mountain range are the paths through Racó de Seba or Racó de Calderó, over 200 different spots to practice climbing activities surrounded by wonderful sights, the mountain bike routes, the ocher and iron mines, its geological and botanical variety and its surprising Cuevas de Canelobre.

Busot's urban area is placed on a hill over the south side of the mountain in Cabeçó d'Or. This hill stands only 7 km away from the sea and rules over the land of Alicante with its 1,205 meters. Fountains, viewpoints, San José's chapel or the runes of Busot's castle are only some of the most famous places in this town of Alicante.

This peaceful and hidden town is the base camp for those adventurers who choose their own destination without caring about the obstacles they may find on their way. Cabeçó d'Or is well-known among Spanish climbers due to its many and varied routes, from the easy ones to the most difficult ones. You can also choose between free or guided climbing or between classical routes in Valencia Region or some other routes which still remain almost unknown.

Some of the most famous names when we talk about these routes are the "Holandés Errante" (in the area of Penya de l'Home), "Directa Gudari" (by Muralla Roja), "Coco Liso", "Cipol el Bárbaro" and "Patricia Rítmica" (Paredón de los Alcoyanos) "Alicia en el País Vertical" (in the area of Penya Alacant) or the "Espolón Payju" (in Torres de Payju). But if you are more interested in getting into deep caves, El Cabeçó d'Or offers you many cavities and galleries such as the Avenc del Marqués or the Cueva del Canelobre. If you want to discover all of them, the city's town hall has created a website with routes, maps and all the activities you'll be able to practice in this mountain range: www.busotaventura.es.